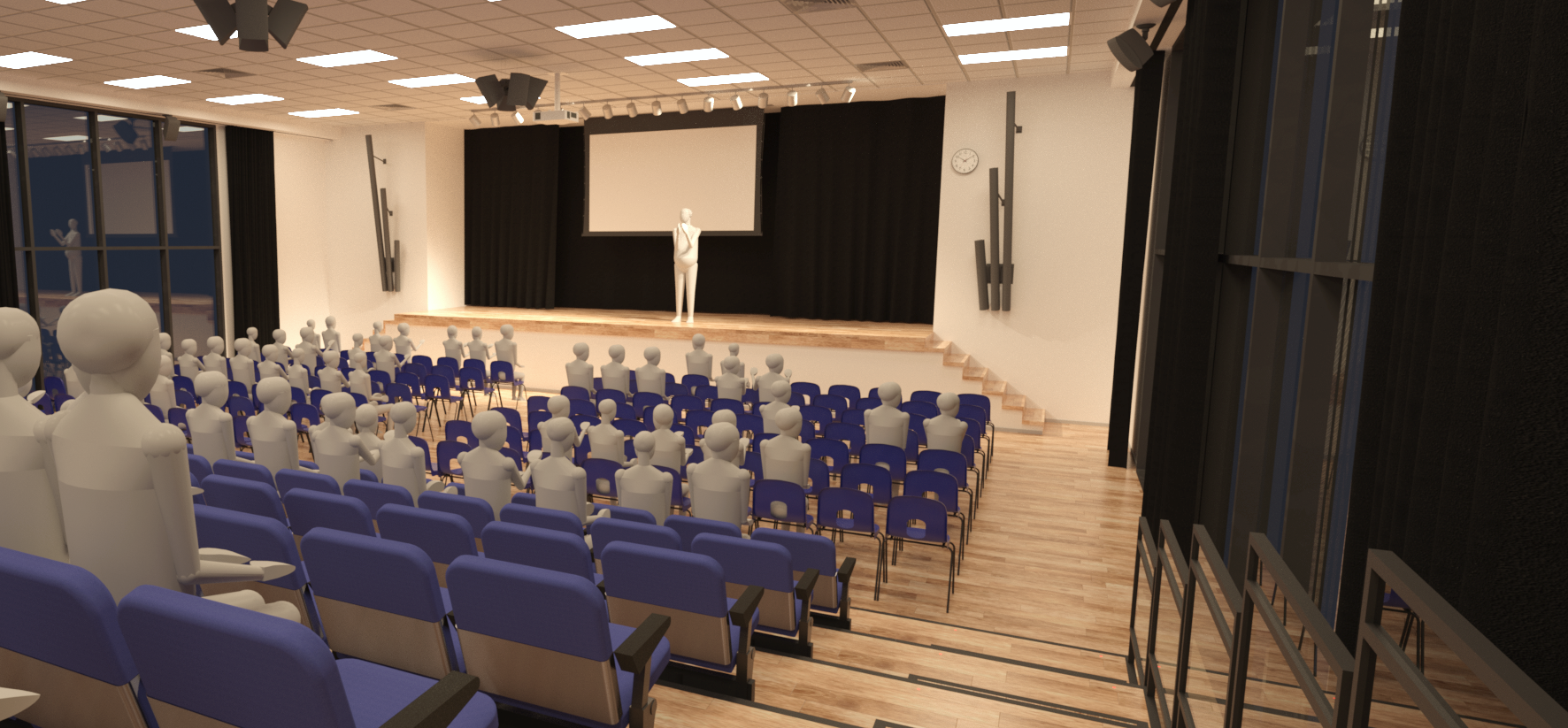 Secondary School Auditorium
Our school auditorium collection contains Revit families for retractable seating, standalone seating, array seating, a projector and projection screen.
Over the past few months, we've developed a series of free collections for secondary school BIM content. Our newest addition is a collection of Revit families for the school auditorium or assembly hall.  
This collection features Revit content for chair seating, seating arrays, retractable seating, a retractable projection screen, projector and clock. As with our previous collections of secondary school furniture, this one has been developed in partnership with industry expert Greta Jonsson.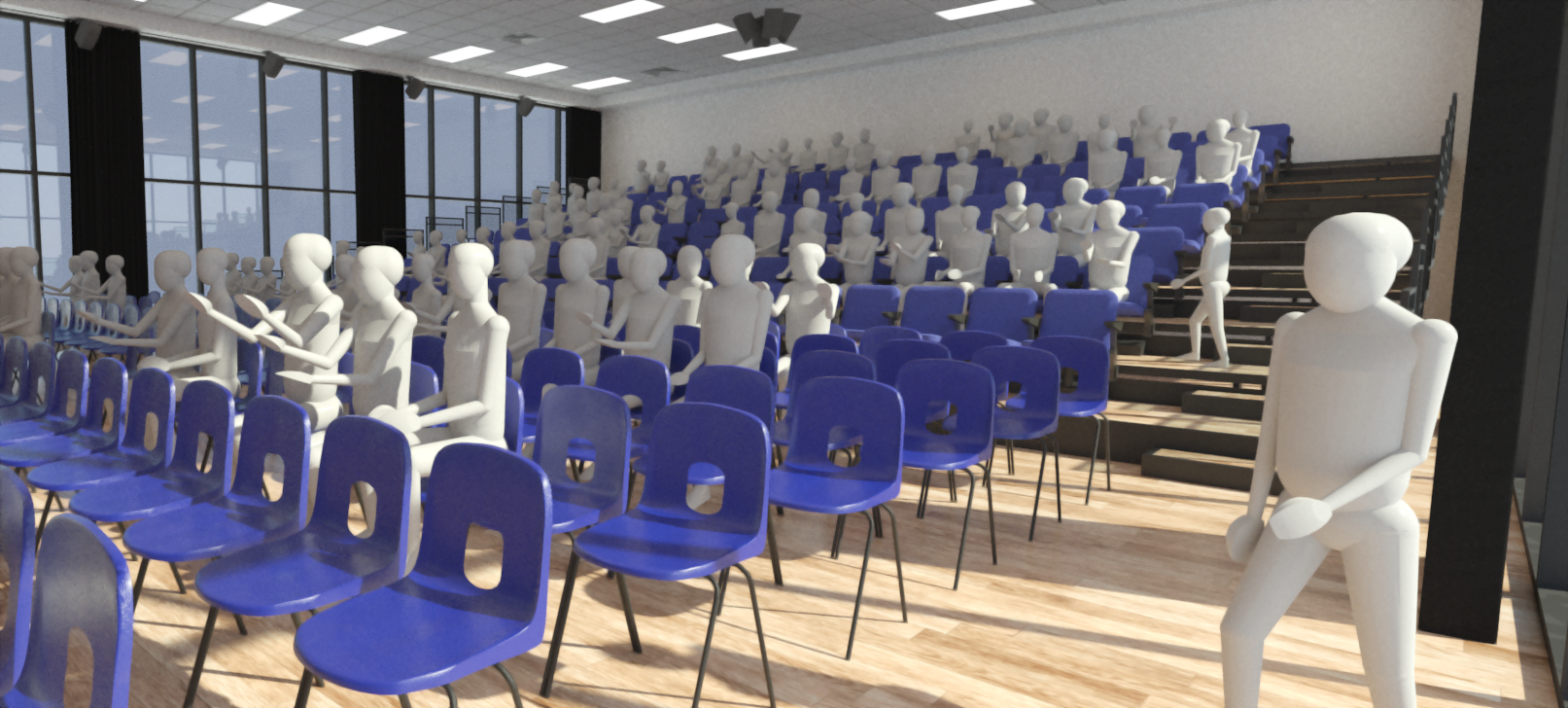 Portable Seating
We've created three Revit families showing the Series E chair from manufacturer Direct Educational Furniture. There is a standalone version, a linear chair array in x-axis only, and a complete chair array system which arrays in both x- and y-axes.
The single chair family comes with 12 types to account for seat and frame colors. The linear array, which only arrays along the x-axis, also has an option to stack the chairs vertically so that they can be shown as stored.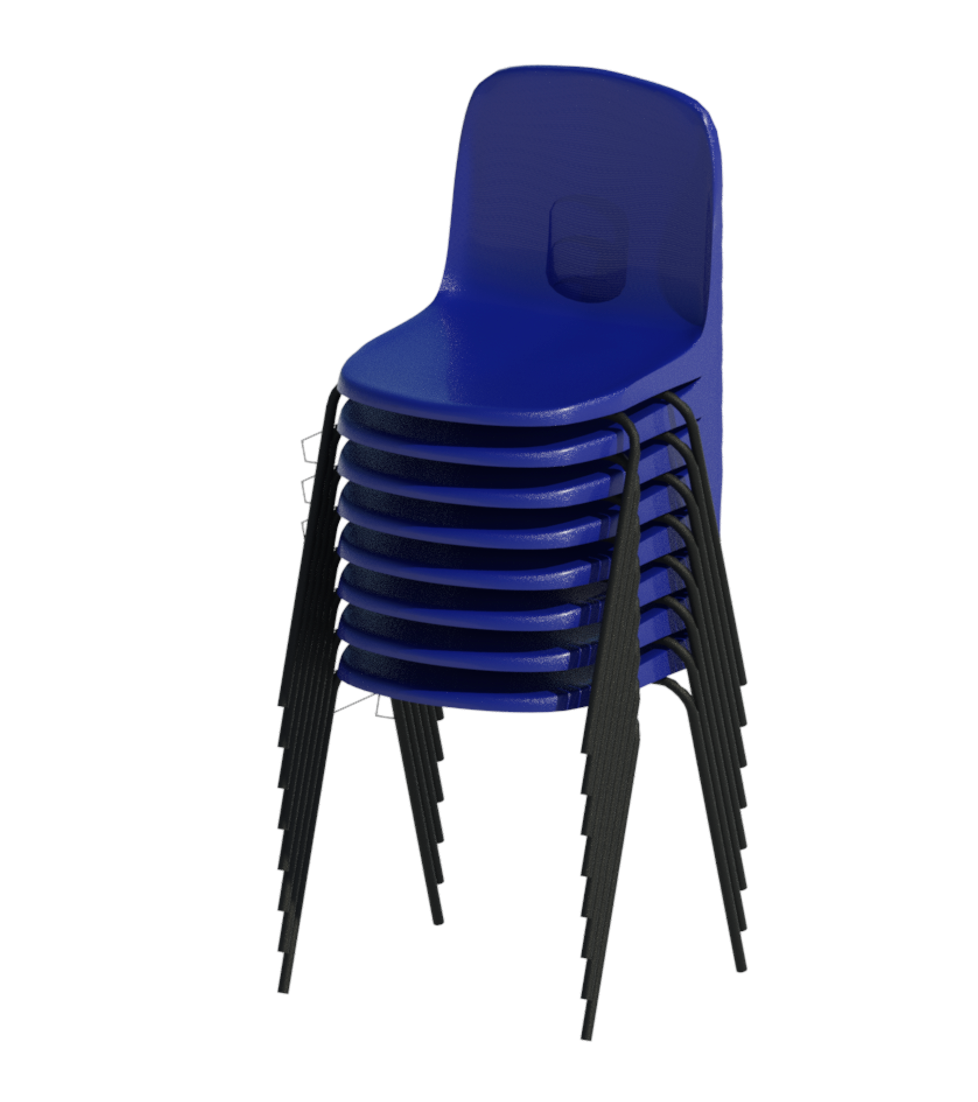 Both array families have the number of rows and columns driven by instance parameters, and all three chair families have 2D geometry in plan view to facilitate a fast workflow when designing room layouts and producing project deliverables.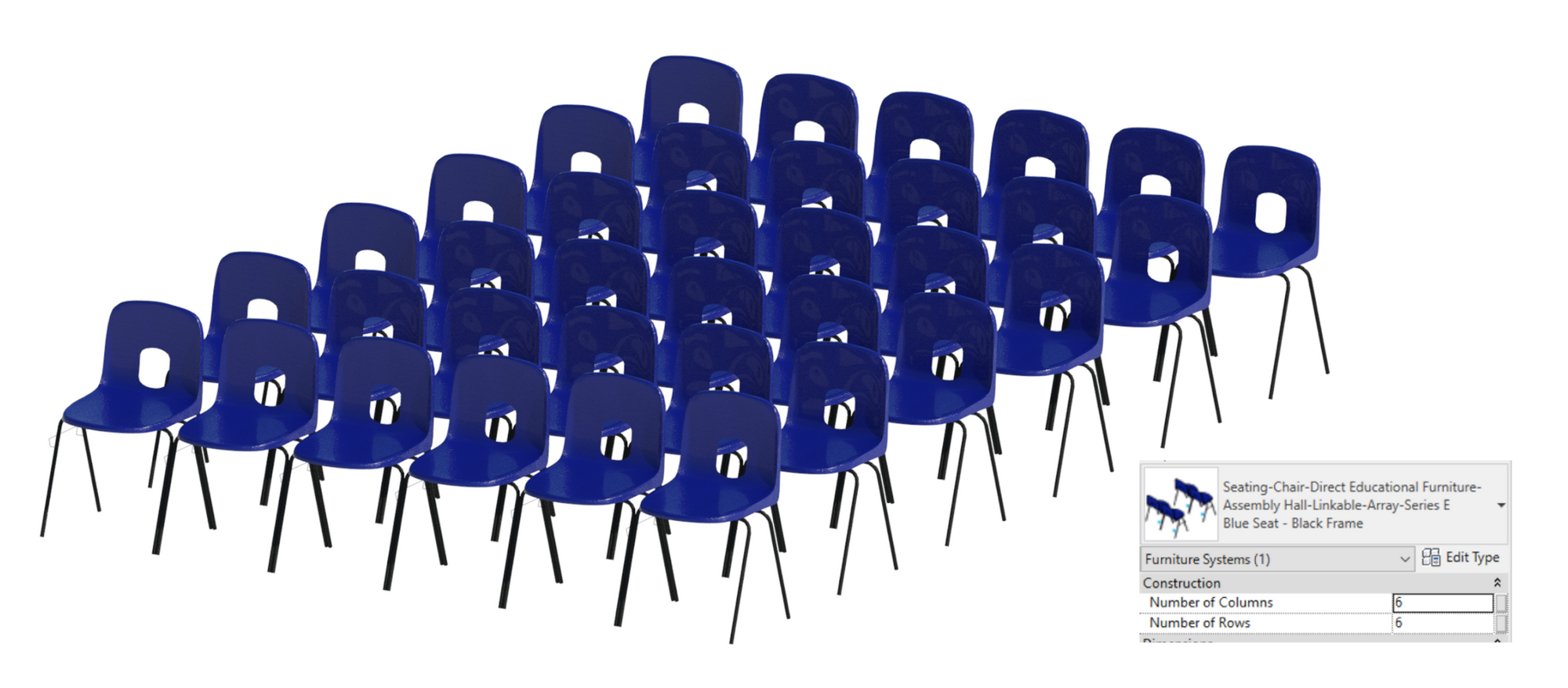 Retractable Seating
The real highlight of this secondary school collection is the Revit family for retractable seating from manufacturer Figueras. The family contains options for aisle location and width, handrail visibilities, seat positions and retracted/deployed position. These options, together with the parametric control that comes with all of our Revit content, allow it to adhere to virtually any building standards.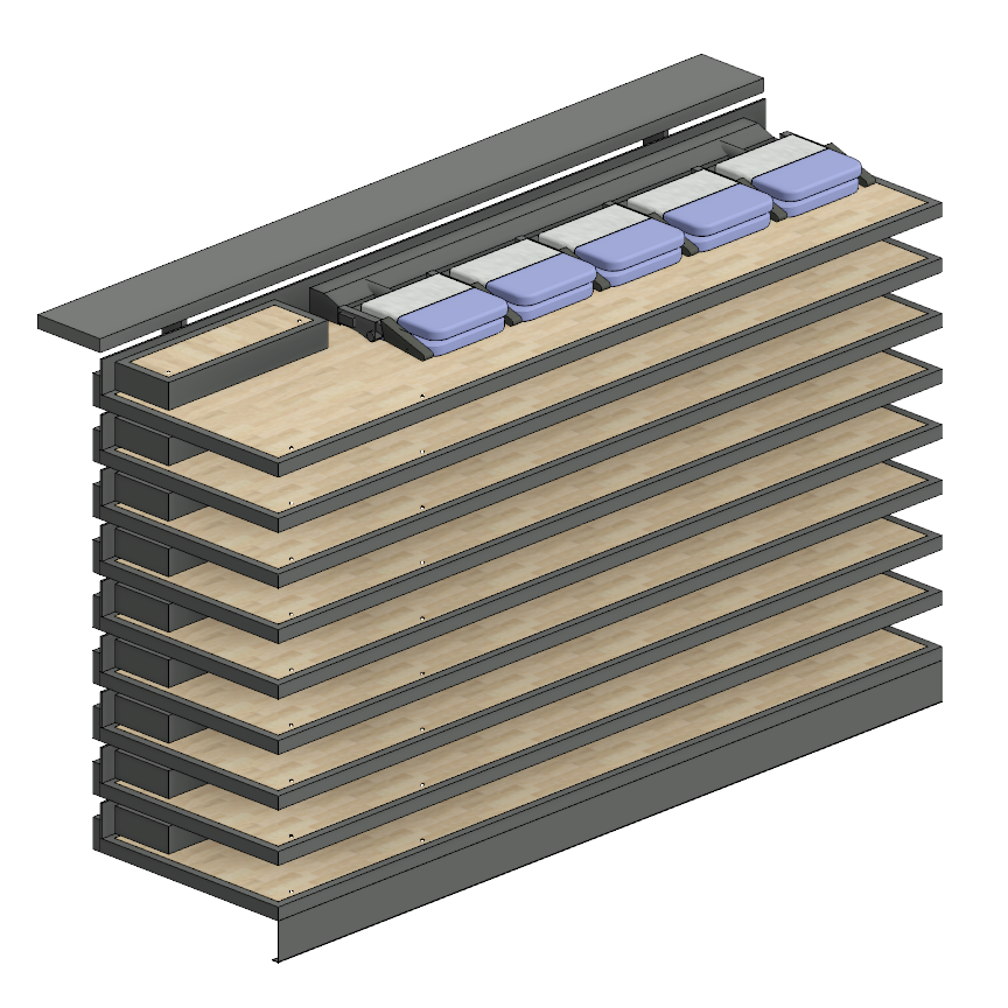 The retracted/deployed configurations enable accurate spatial coordination, and the attention to detail and materials will impress any client. Created from native Revit geometry only, the model has three levels of detail to provide appropriate views at different scales and deliver optimum performance in design stage and final renders.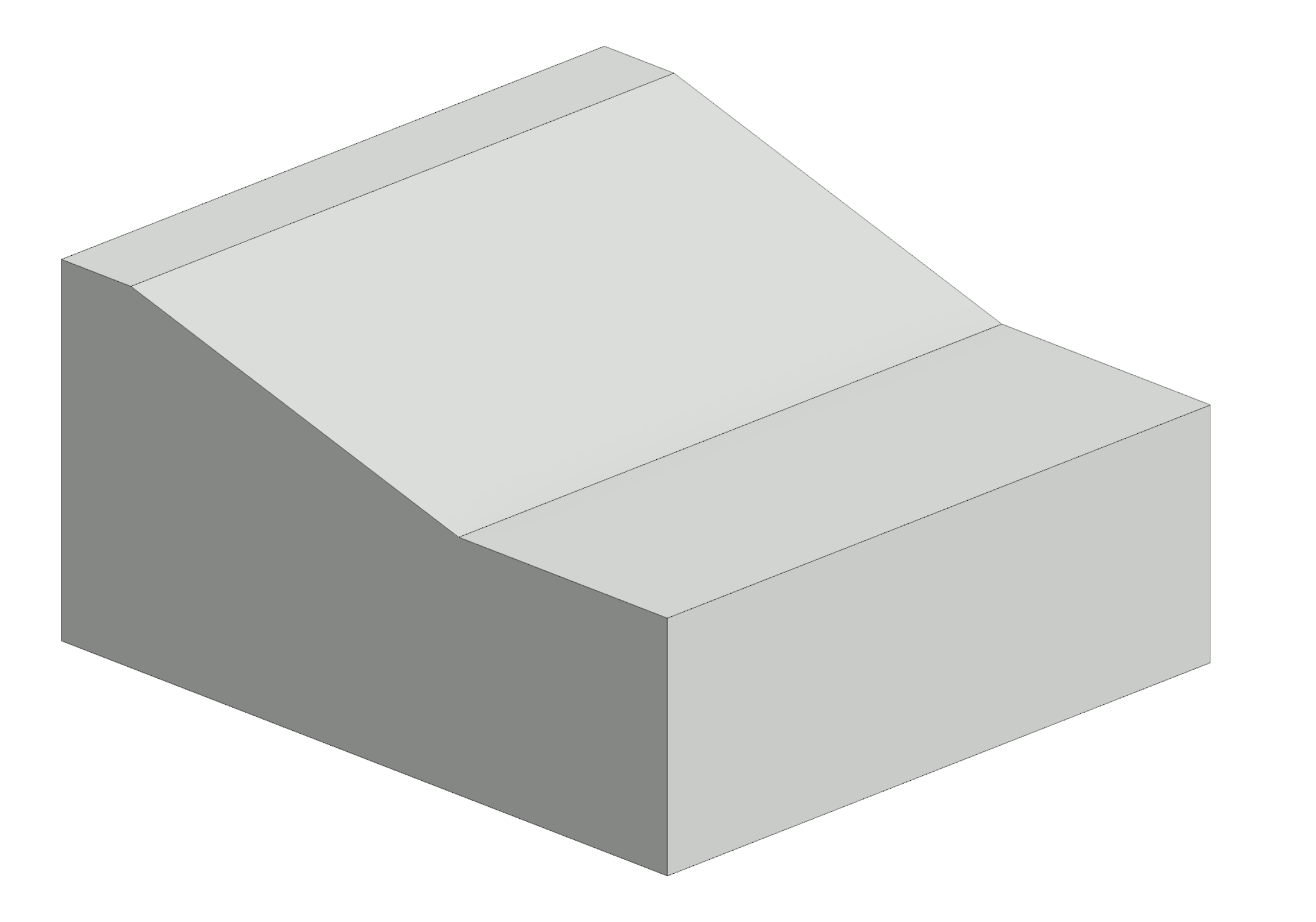 This retractable seating family will be an invaluable addition to any school project. With over 800 types that define the number of tiers, length, flooring material and seat upholstery, it does push the limits for type catalog size. However, the use of Revit filters when loading the type catalog should mitigate any issue with selecting the desired type(s).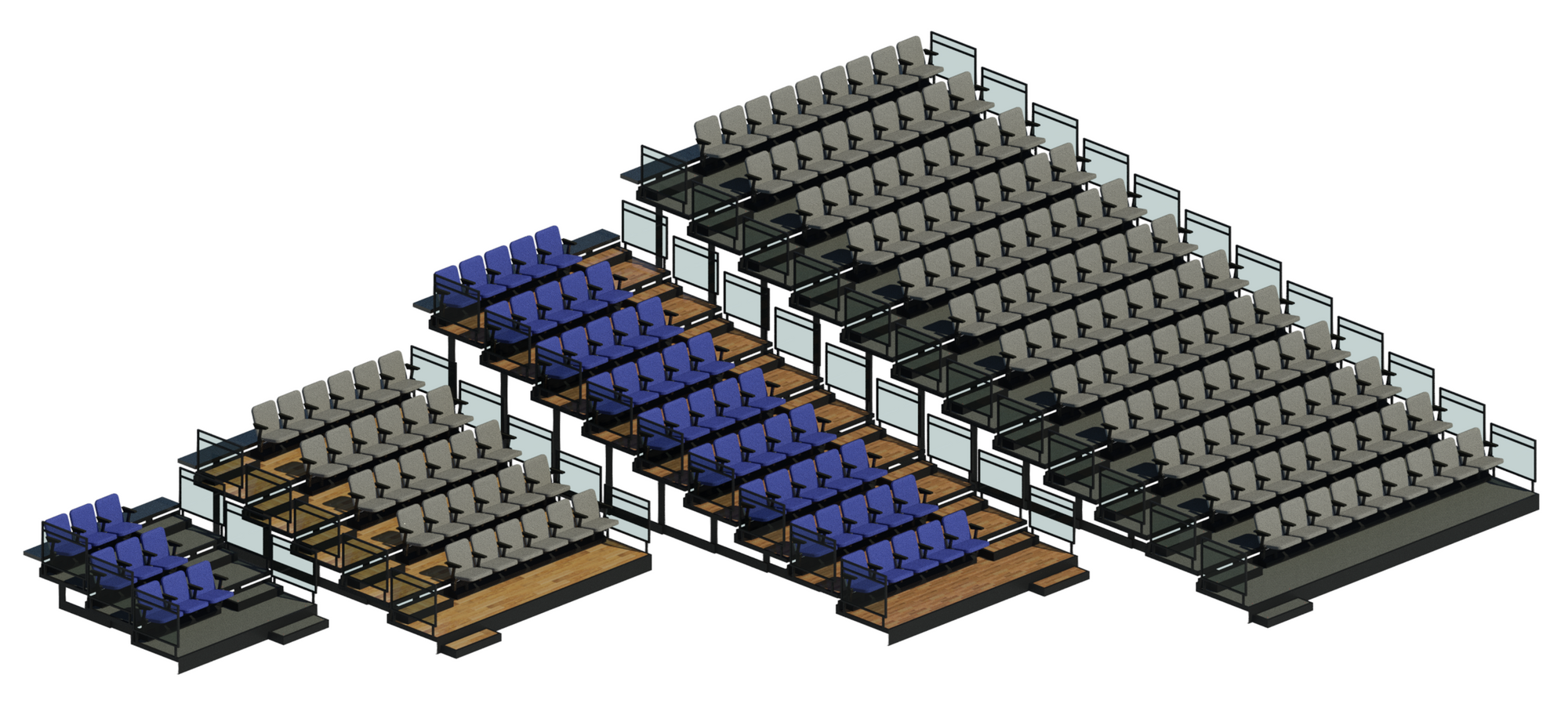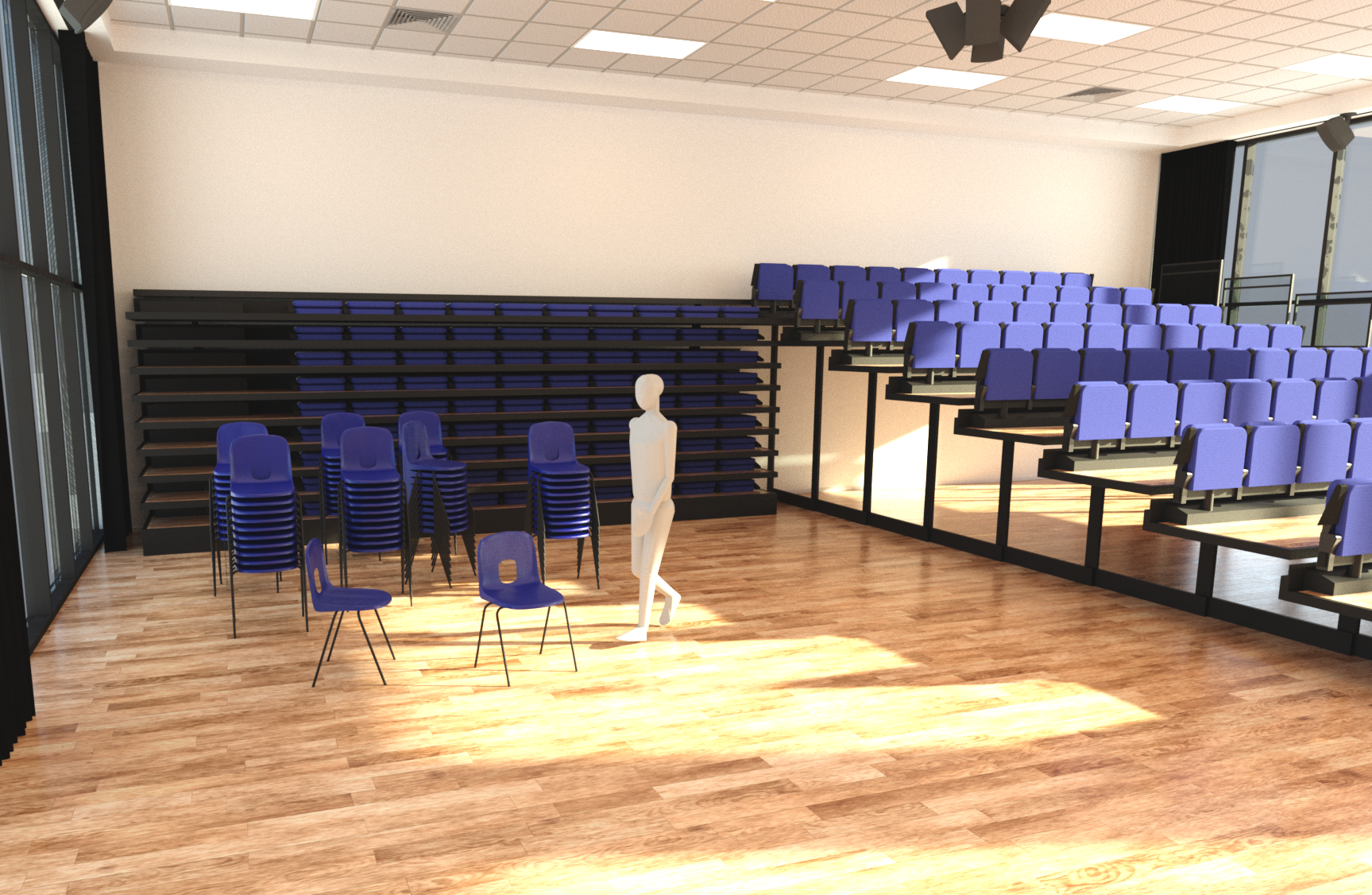 Projection Screen
The collection also contains a ceiling-mounted retractable projection screen from Stewart Filmscreen. The Revit family has 12 types accounting for screen size and resolution. This model was actually created by Jose back in the day when Revit was not as widely used. If you ask Jose (and even if you don't), he will tell you how good this family is, and to his credit this is a fully parametric family that's just as usable today as it was back then. It's a testament to the longevity of well-made Revit content.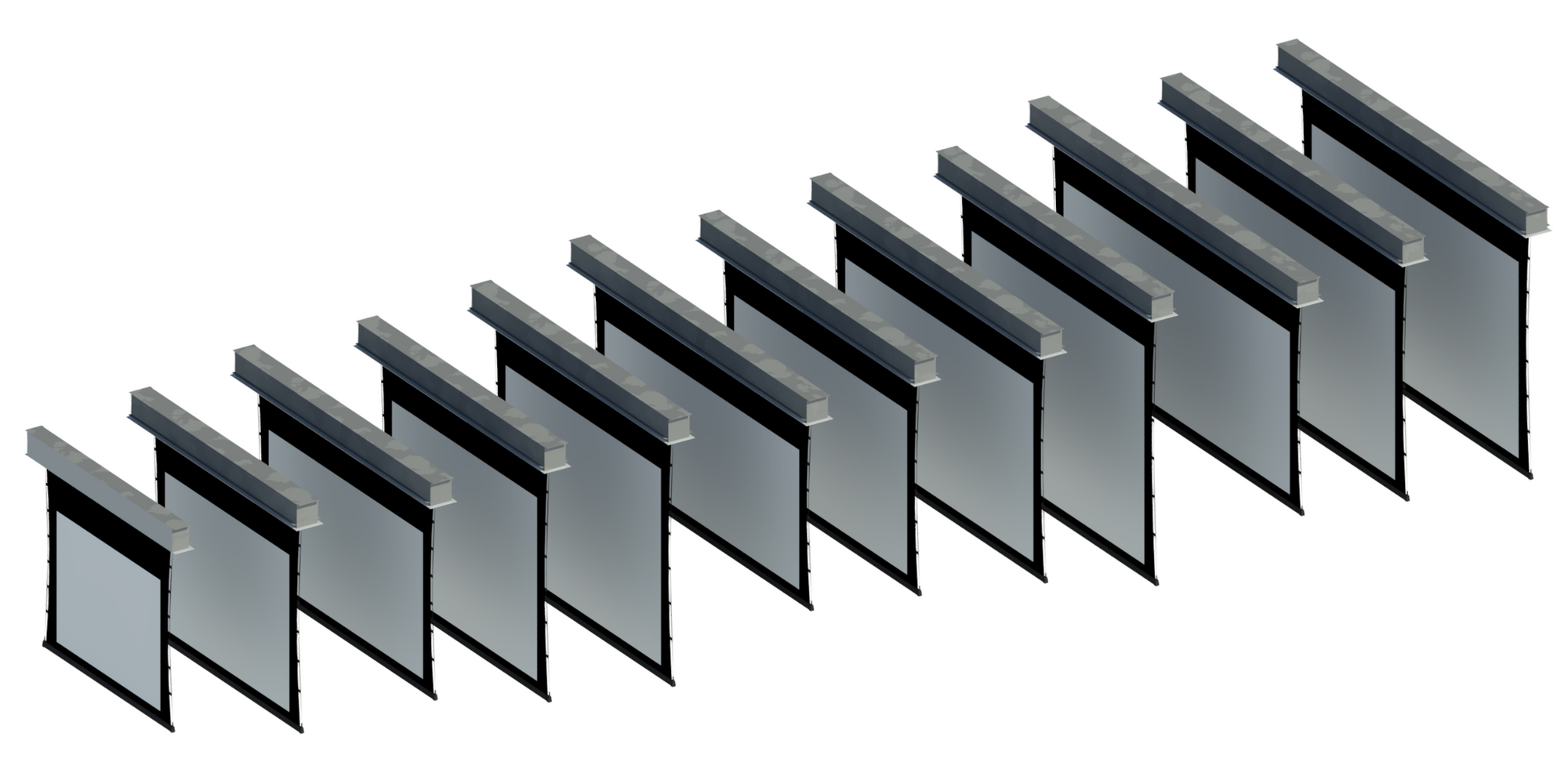 Projector
We've added a ceiling mounted projector from Hitachi. Our projector has 10 types accounting for two voltages and five different lens options.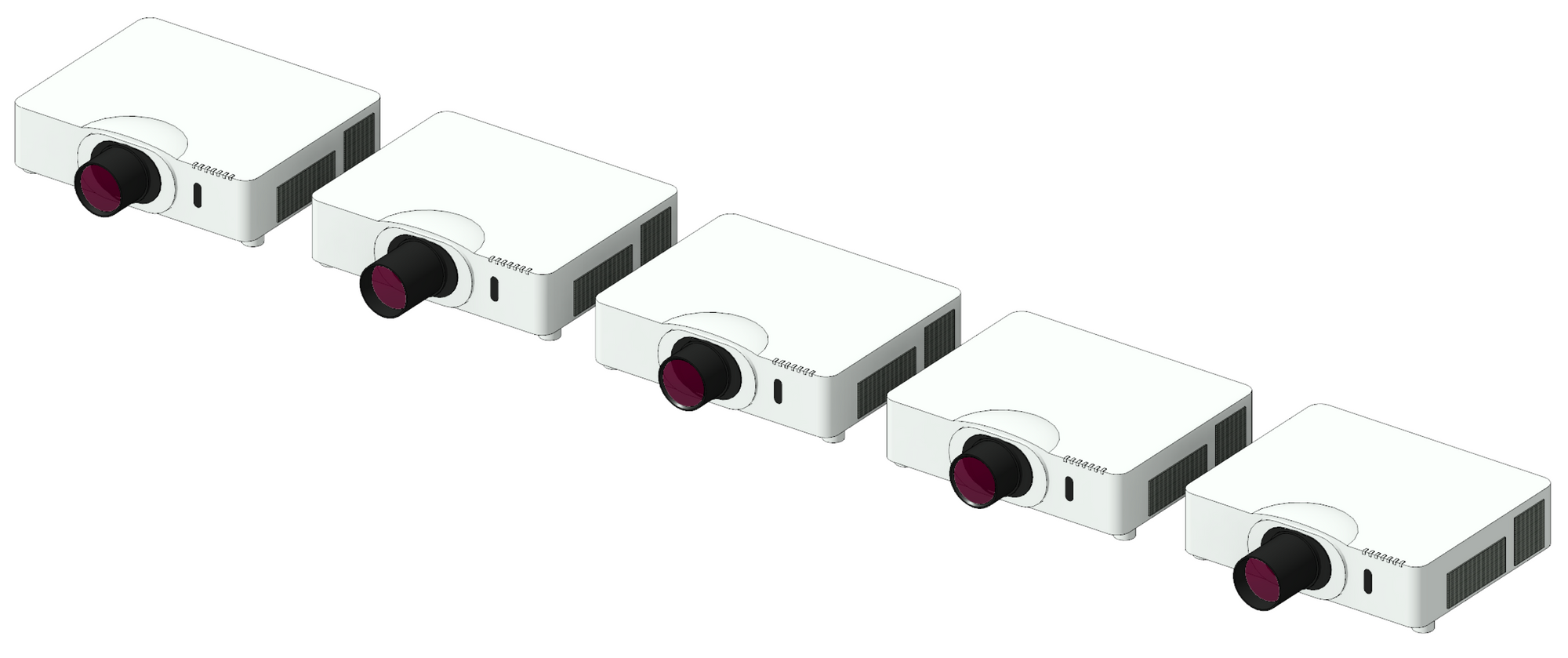 The projector is faced based, so that it can be placed on top of furniture or on the underside of a ceiling. It has a mounting pole option and variable offset value to ensure any installation design can be achieved.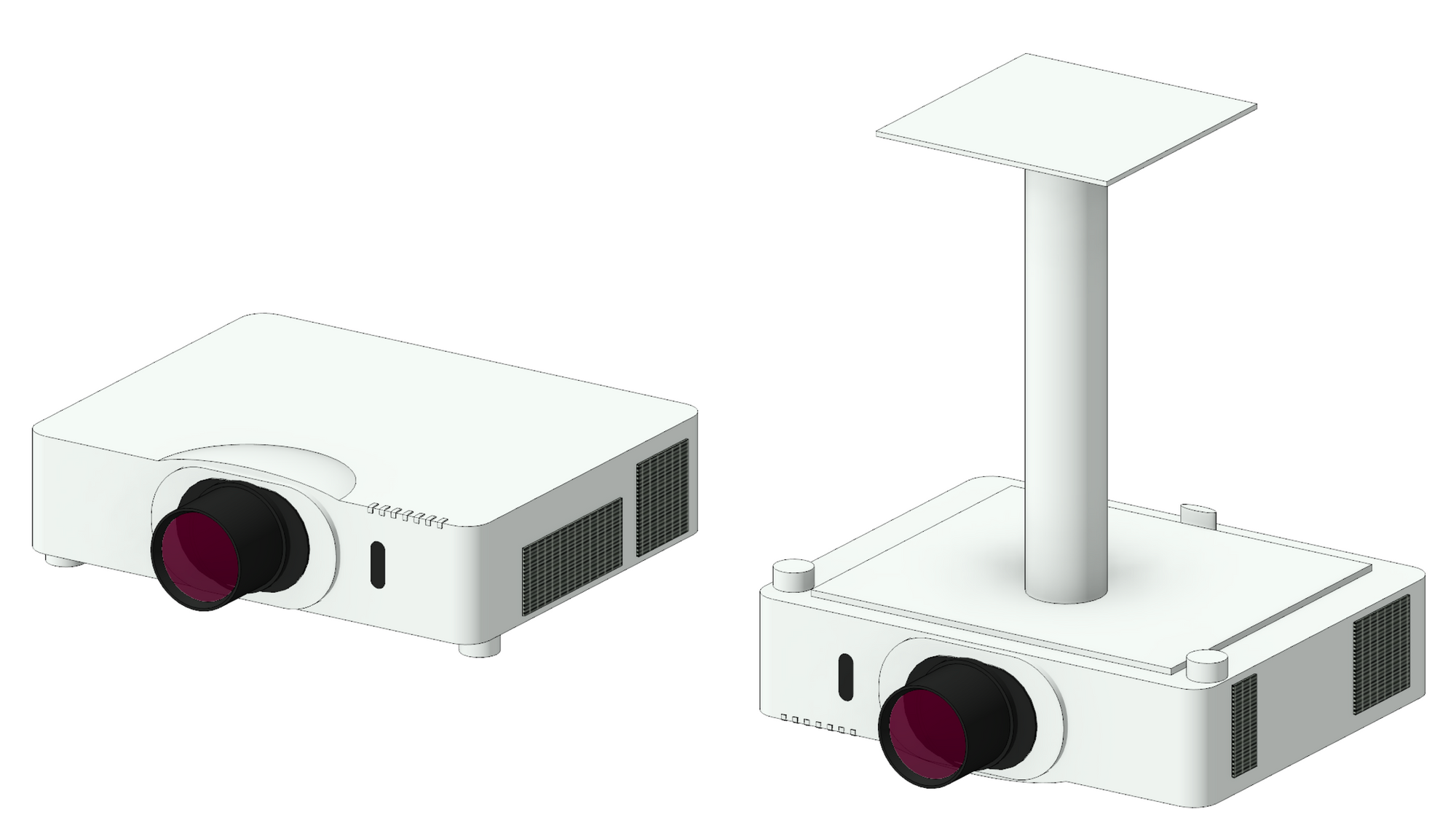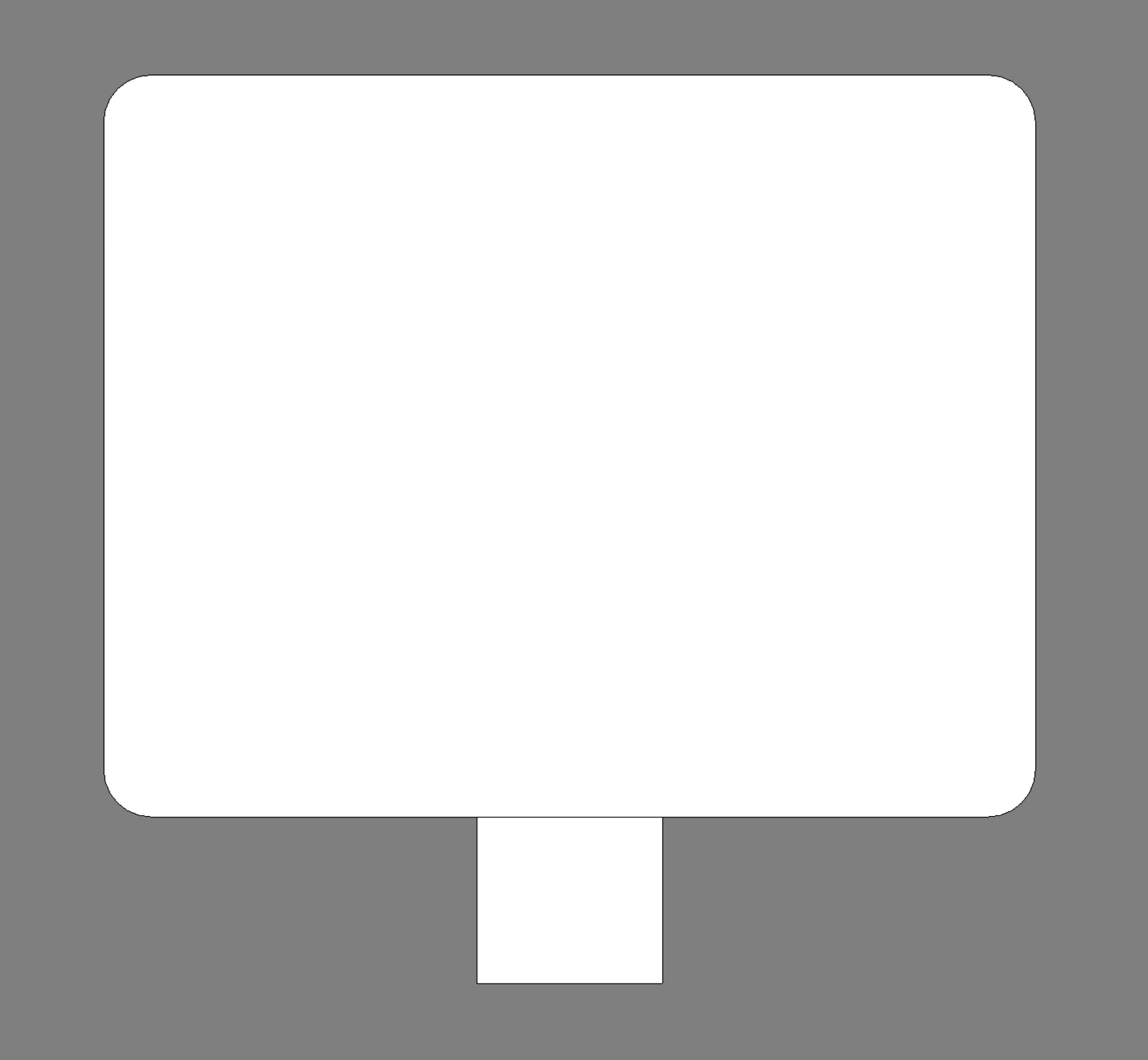 Ancillaries
Lastly, like all of our school collections, this auditorium collection contains a wall-mounted clock from Acctim. It really ties the room together!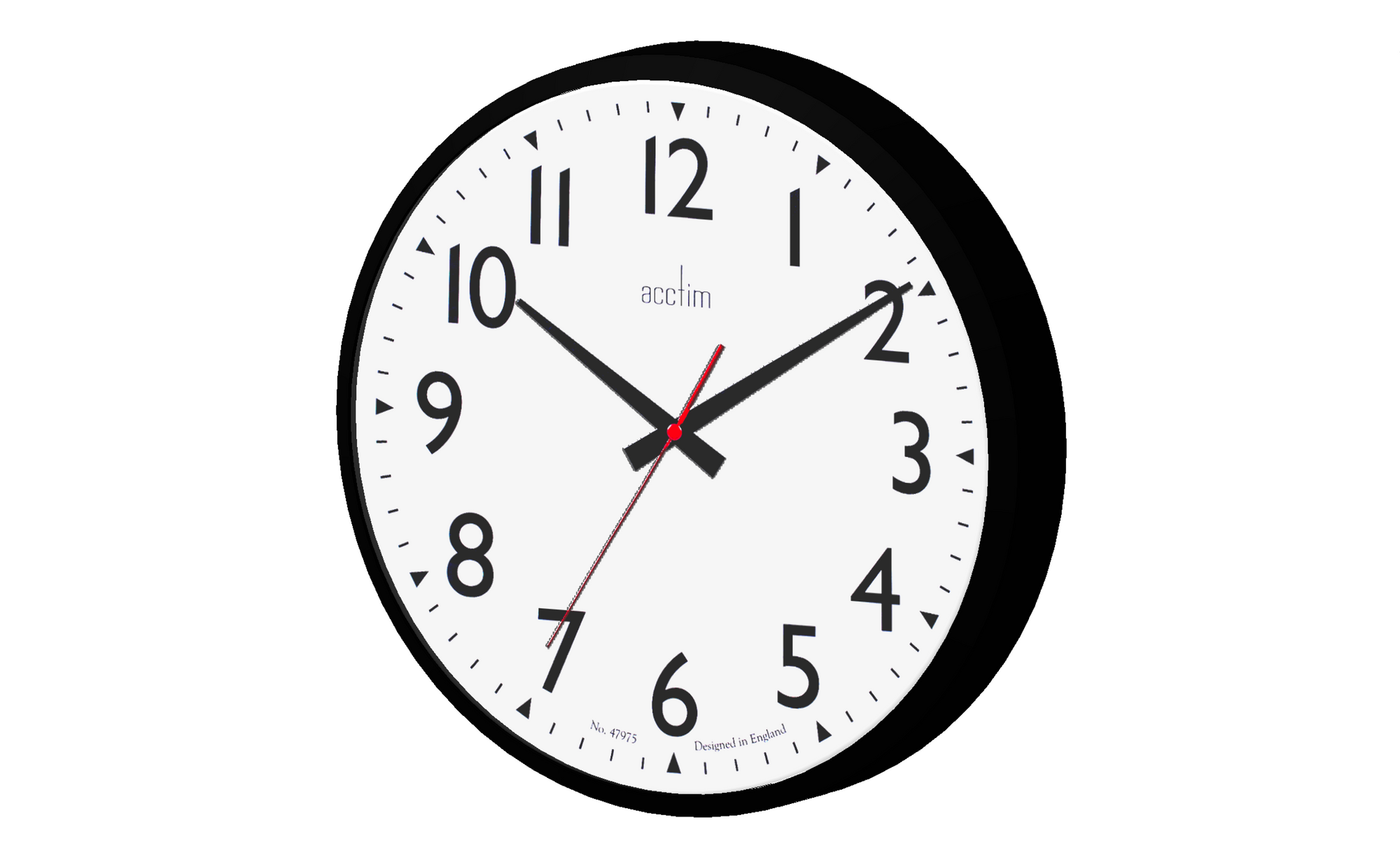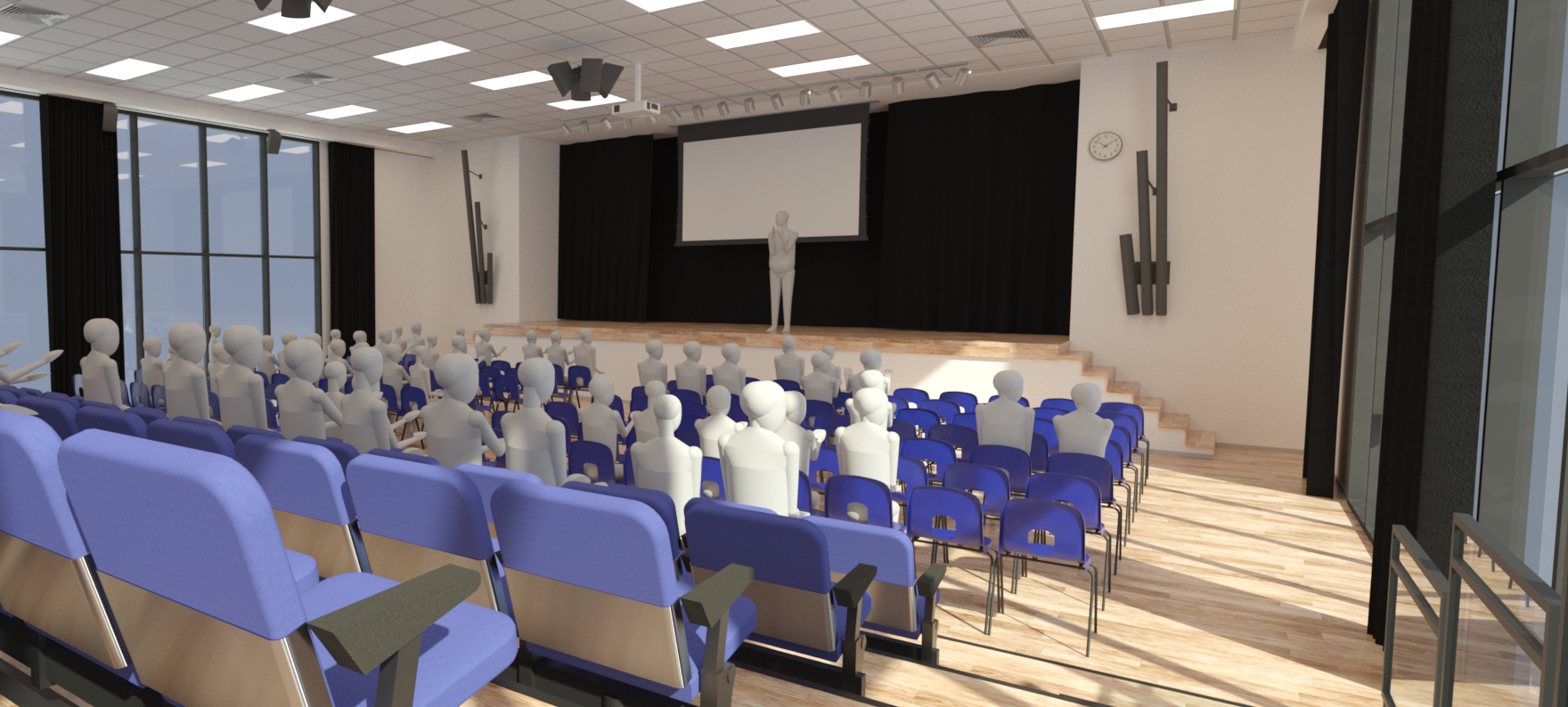 Get the Collection
Click here to view and download the full collection.
Collection Content List
Standalone chair from Direct Educational Furniture.
Linear stackable array chair from Direct Educational Furniture.
Array chair from Direct Educational Furniture.
Retractable projection screen from Stewart Filmscreen.
Projector from Hitachi.
Retractable seating from Figueras.
Wall-mounted clock from Acctim.
About Greta Jonsson, ARB, RIBA
Greta Jonsson is a UK-based architect with over 15 years of experience in the education, community and housing sectors. She has previously worked for Cazenove Architects and ECE Architecture amongst others. Currently, Greta is leading the social enterprise 100% PLUS (www.100percentplus.co.uk), which is focused on developing a concept for quality, inclusive housing with the involvement of the community living around it. In addition to co-founding 100% PLUS, Greta is an ongoing mentor at Built by Us Fluid Diversity Mentoring programme, has volunteered for Open City in various educational projects, and is a member of Women in BIM.
Want More Content?
All of our free Revit collections are part of Kinship Content+,  a service providing companies with on-demand Revit content creation as well as access to a pool of existing Revit families from other customer requests and our own internal development.
If you have any comments, or suggestions for components you wish were in this collection, please let us know at hello@kinship.io.