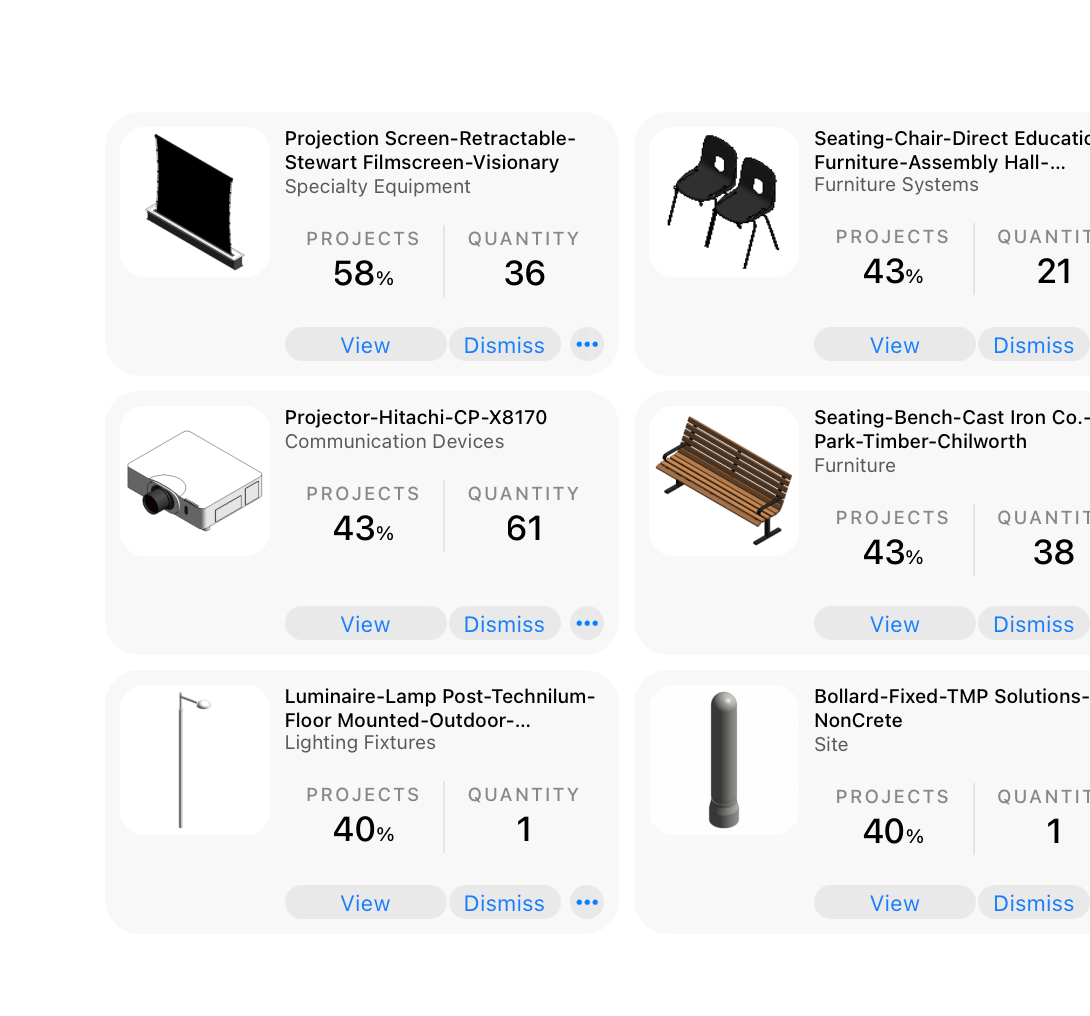 Now in Kinship: Suggested Content
Kinship now offers suggested content for your library based on your most popular project content. Expand and fill the gaps in your Revit library with a flow of intelligent content recommendations.
For teams working in Revit, it's incredibly common for users to go into old projects to get content that they need. There can be several reasons for this, but often it's because there is no company library for the team to pull from, or because the library doesn't yet have everything that the team needs.
Much to the dismay of BIM managers everywhere, re-using old project content is a time suck and a black box that tends to repeat itself over and over. It might take a half hour or more for someone to find the right project model, open it up in Revit, and then find the content they want to use.
In addition, this process usually takes place "behind the scenes", without other project members or BIM managers being aware that it's happening. So the broader team and future projects don't get any value from it, and the cycle simply repeats from project to project.
Turning a common problem into a solution
Our new Suggested Content feature takes the problem of recycled project content and turns it into a valuable resource for building your Revit library. In the new Suggested Content area of your library landing page, Kinship will show you the most frequently used project content that is not yet part of your library or collections.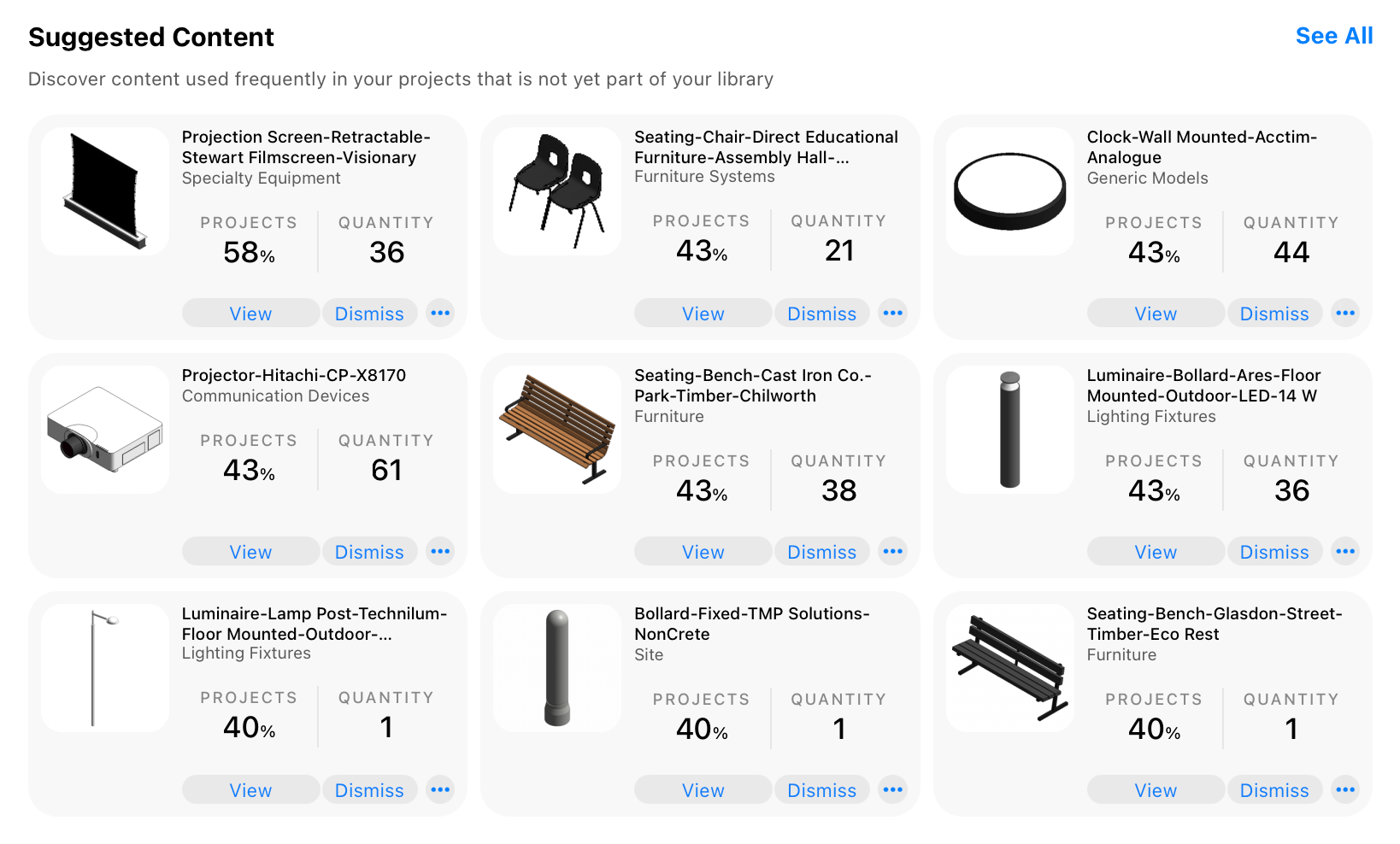 This new feature helps you expand your Revit library with the content that your team has already been using. Even if you don't want to add suggested content to your library, the feature still helps you spot key gaps in your library that you should address in order to minimize the use of families from old projects.
How it works
The Suggested Content section will show you up to 100 families at a time, based on the Revit content that has been used most frequently across all of your tracked projects. A Revit family has to be used on a certain minimum percentage of projects in order to be shown as suggested content.
For each Revit family in the Suggested Content section, you'll be able to see details about which projects have used the family as well as different versions of the family across those projects. You can also review full family specs including:
Revit version
Family types
Parameter data
File size
Potential health issues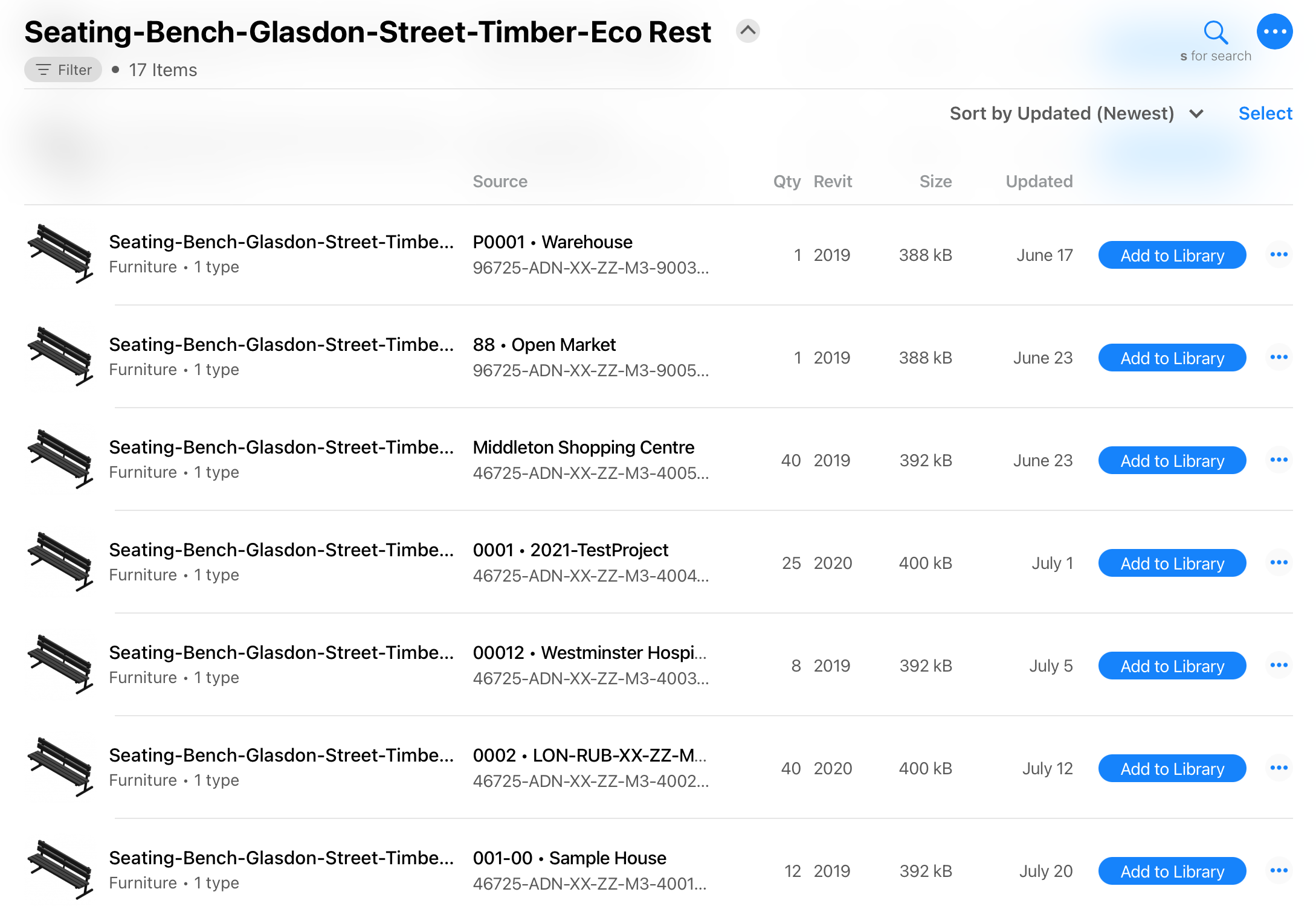 You can choose whether to add suggested families to your library or dismiss the ones you don't want to use. New families replace the Revit content that you add or dismiss, ensuring a steady flow of recommendations to help you continue expanding and improving your library.
Available now on all plans
Suggested Content in Kinship offers a smarter way to build out your Revit library. Now you can take advantage of the tendency to recycle families from old projects to find new content worth adding to your library, or to identify the types of content that you should focus on adding through other means. Available for teams on all plans, you can access the new feature by navigating to the library landing page on your Kinship website and going to the "Suggested Content" section.