This free collection includes Revit families for a reducer, coupling, bend, combined tee and wye fitting, cross and end cap, along with a pipe type with full routing preferences defined.
This week we have a new piping collection from Grinnell. Our free collection features all the fittings required to make up the Revit routing preferences for flexible grooved pipework using mechanical joints.
The collection contains Revit families for a pipe type, reducer, coupling, bend, combined tee and wye fitting, cross and end cap. We've created the pipe type itself with the full routing preferences already defined, so you can load it and start drawing your pipework without a second thought.

Grinnell pipe fittings available in the collection.
The Grinnell pipe fittings featured in this collection are made from ductile iron and have grooved end connections, utilizing mechanical joint couplings. Grooved pipework offers quick cost-effective installation, with no need for hot works, threading or welding, while still maintaining a high pressure at connection point.
The collection includes the six most common fittings used in Revit's routing preferences, yet also covers a wider variety of pipe fittings. The cast short radius bend covers Grinnell's 90, 45, 22.5 and 11.25 degree elbows.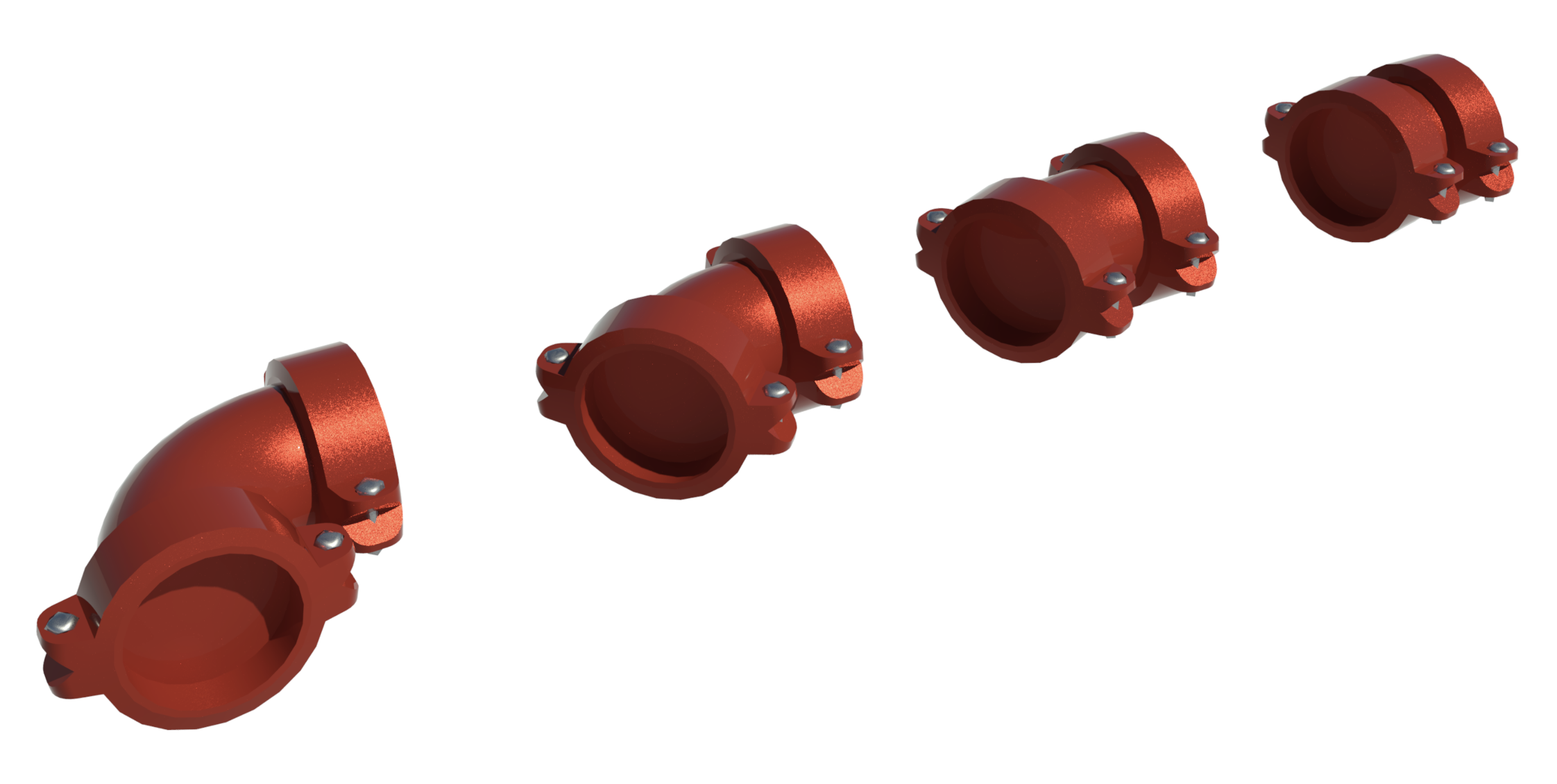 Revit bend family includes 90, 45, 22.5 and 11.25 degree elbows.
The combined tee/wye fitting covers equal tee, equal wye, reducing tee and reducing wye fittings.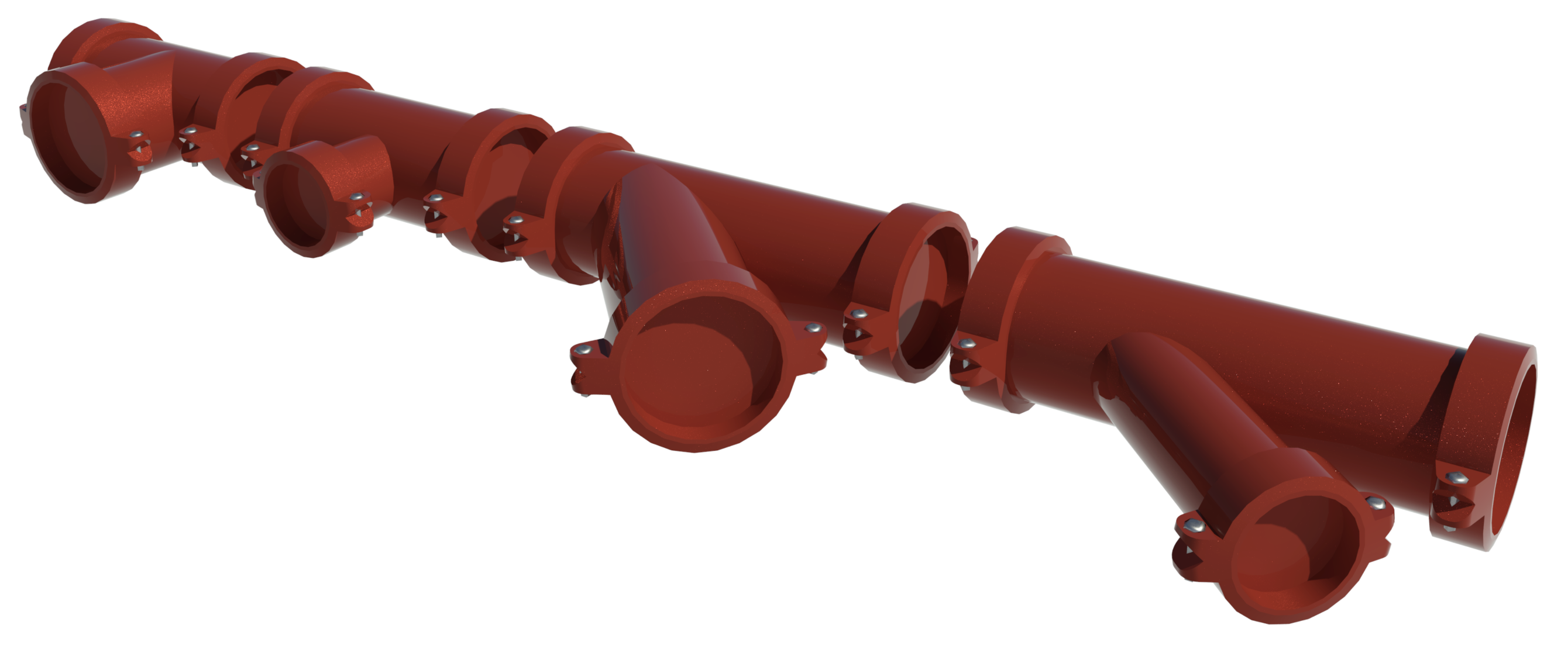 One Revit family includes the equal tee, reducing tee, equal wye and reducing wye.
The reducer covers both the cast concentric and prefabricated eccentric reducers from Grinnell. Unlike some other reducers out there or out of the box Revit content, our reducer can be used with the "Justify" tool and switch seamlessly from eccentric to concentric and vice versa.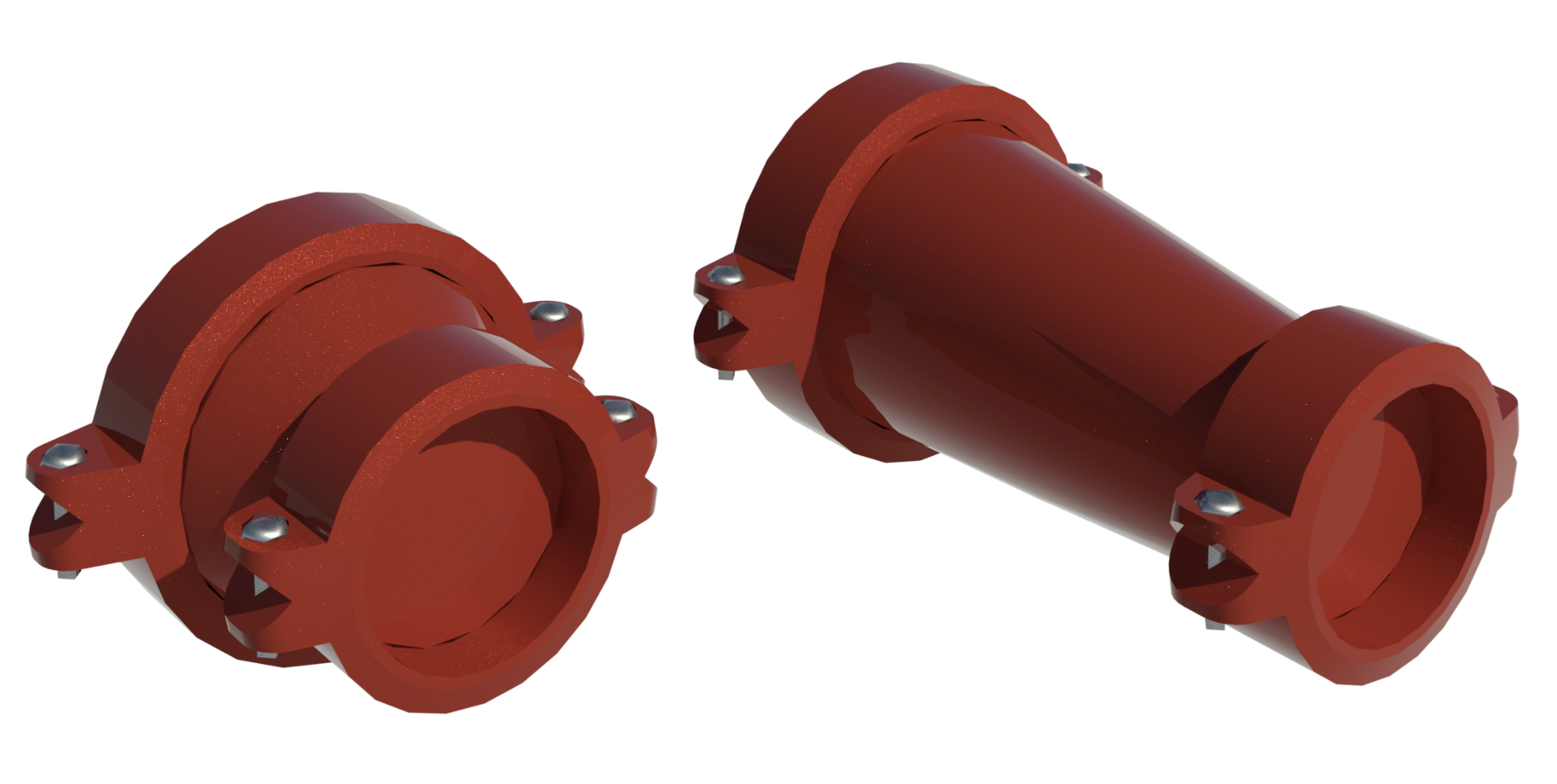 Our reducer Revit family covers both concentric and eccentric reducers.
Flexible Coupling
The Figure 705 Flexible Coupling is capable of pressures up to 500 psi depending on pipe size and wall thickness. It provides a fast and reliable method of joining pipes. Able to absorb deflection within the joint and misalignment of pipework, this coupling makes light work in a variety of applications including Low Temp Hot Water, Chilled Water, Sewage, Drainage and Fire Protection systems.
The pipe range uses the Grinnell flexible coupling and has been given a 2 degree tolerance. For instance, the 90 degree bend can produce 88-90 degree bends and still return the correct Grinnell product code.

Fittings overlaid with transparency increased to show how they accommodate design inaccuracies and flex of the coupling.
IsCustom Option
Our Grinnell ductile iron pipe fittings include the IsCustom option. The IsCustom option allows the Revit user to create piping systems with a more fluid workflow. Whenever there is an incorrect value for angle or nominal diameter (depending on the fitting), Revit will allow the pipe to be drawn but will flag that it's using a custom fitting and will color the fitting bright red.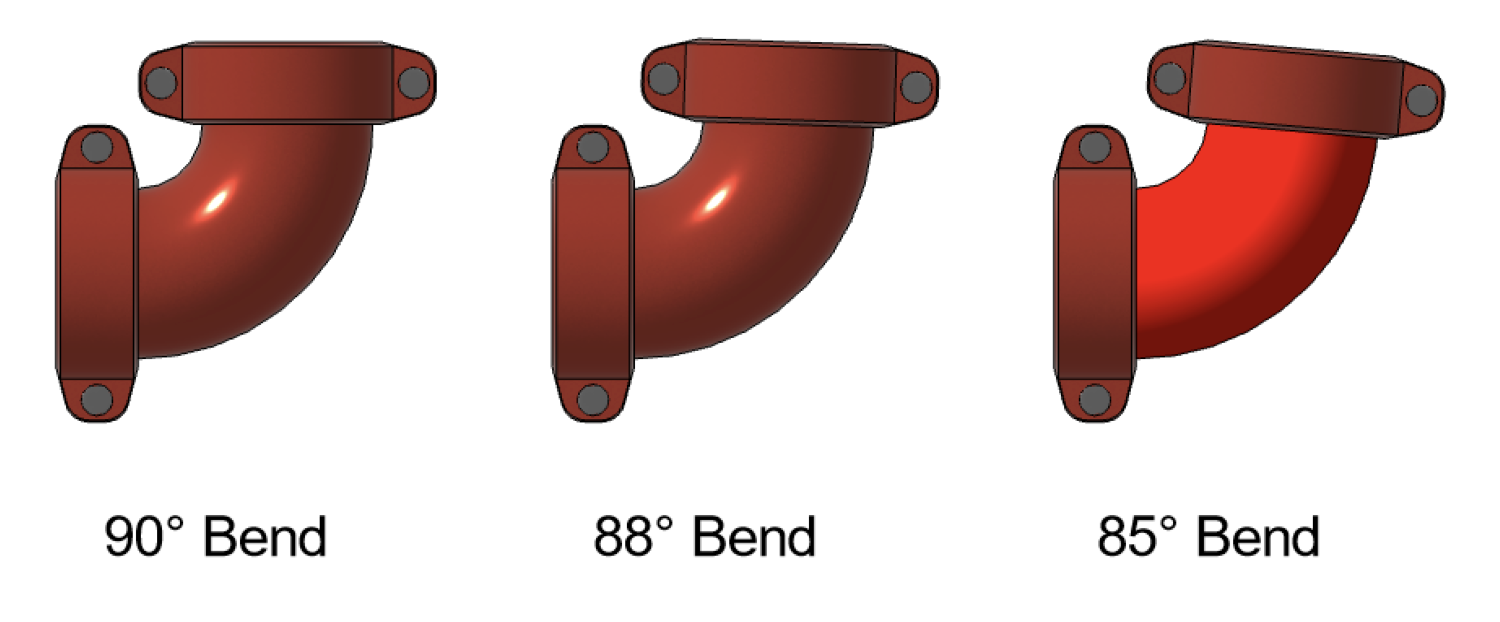 IsCustom option at work – the 85 degree bend colors bright red when created.
We've also added the weights and a pipe fitting model parameter that allows the user to identify any custom fittings and potential coordination issues. These parameters can be quickly scheduled in the project and any reference to "custom" can be highlighted, reviewed and replaced if needed.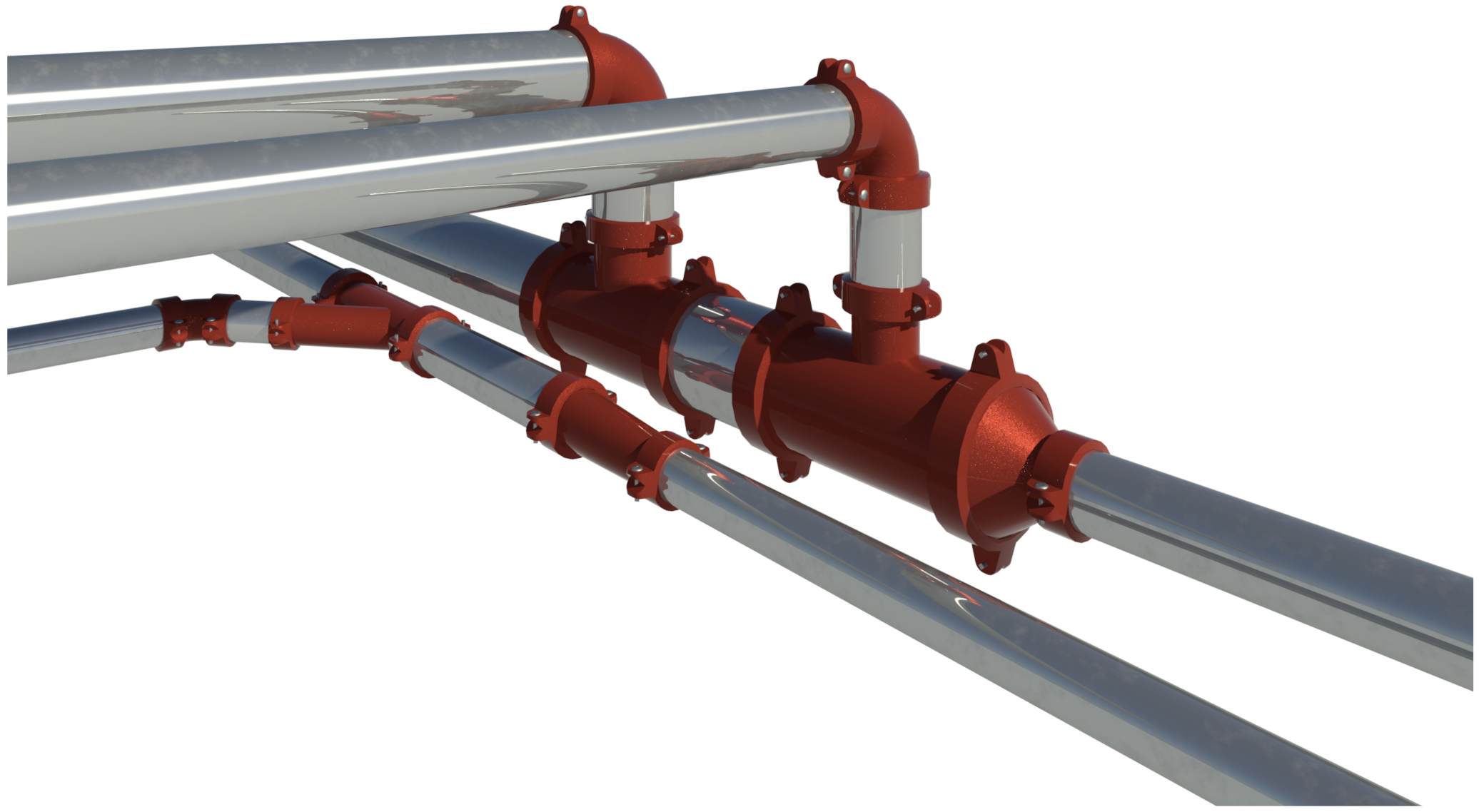 Raytrace showing Grinnell grooved pipework collection.
Get the Collection
Click here to view and download the full collection.
Collection Content List
Pipe Type - SS - Grinnell - MJ - DI - Flexible
Bend
Cap End
Coupling
Cross
Reducer
Combined tee & wye