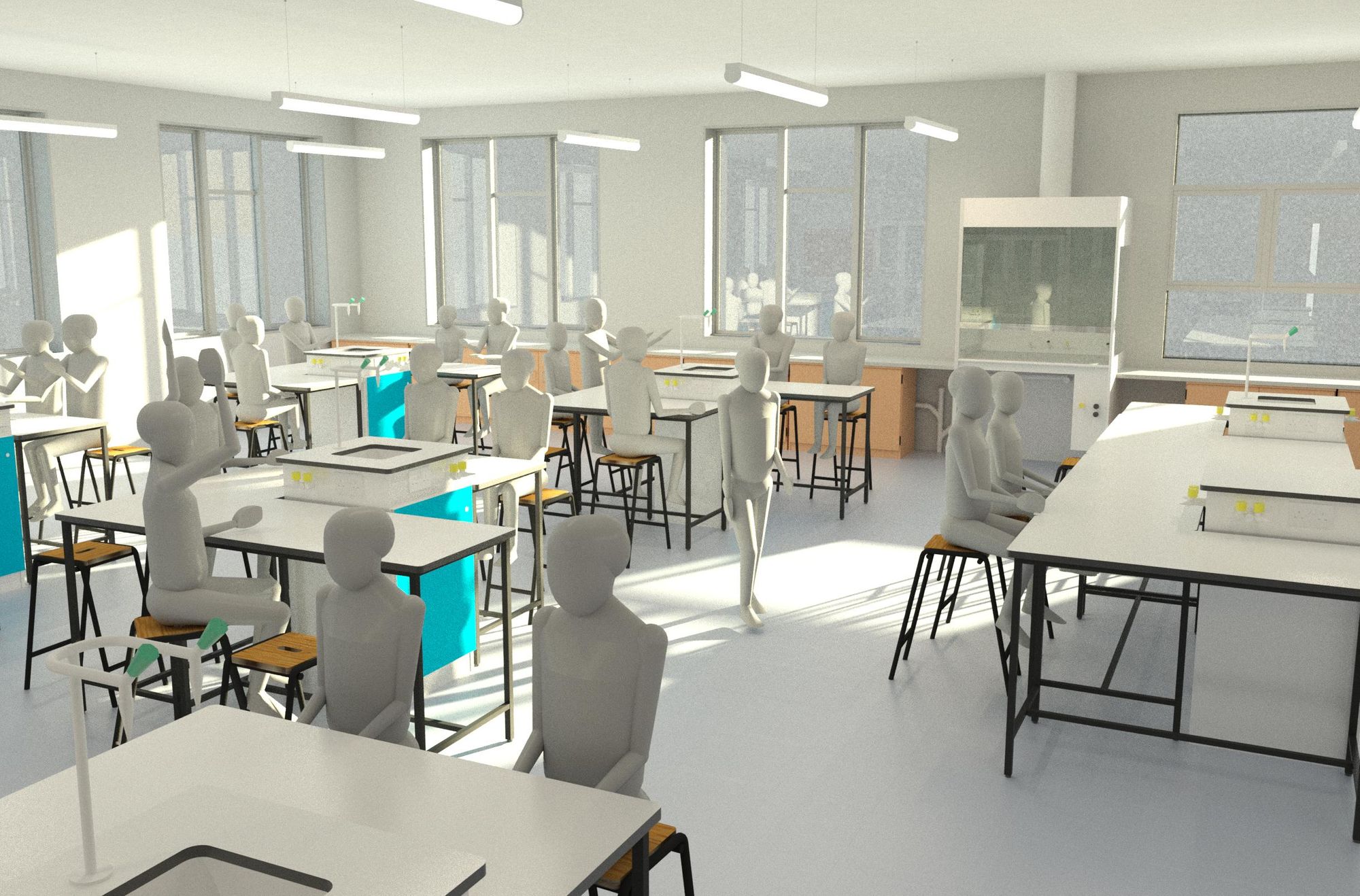 Secondary School Science Lab
Our school science lab collection contains Revit families for a rectangular table, lab stool, student service bollards, smartboard, whiteboard, projector, storage cabinet and coat hooks.
We're keeping the school theme going with this next collection of Revit content for school science laboratories. The collection contains Revit families for a rectangular table, lab stool with wooden seat, student service bollards, smartboard, whiteboard, projector, storage cabinet and coat hooks. As with our previous two collections of school furniture, this one has been developed in partnership with industry expert Greta Jonsson.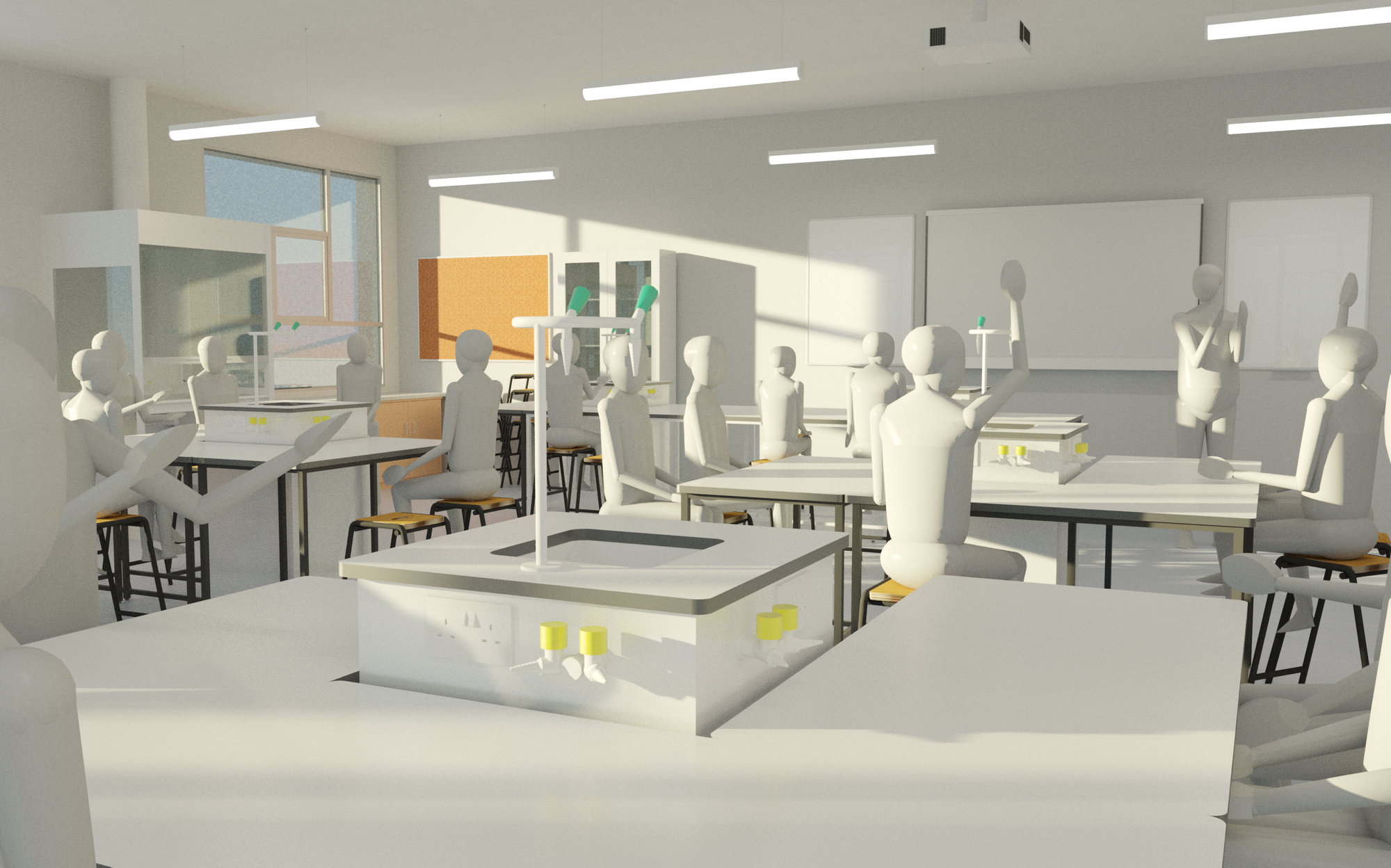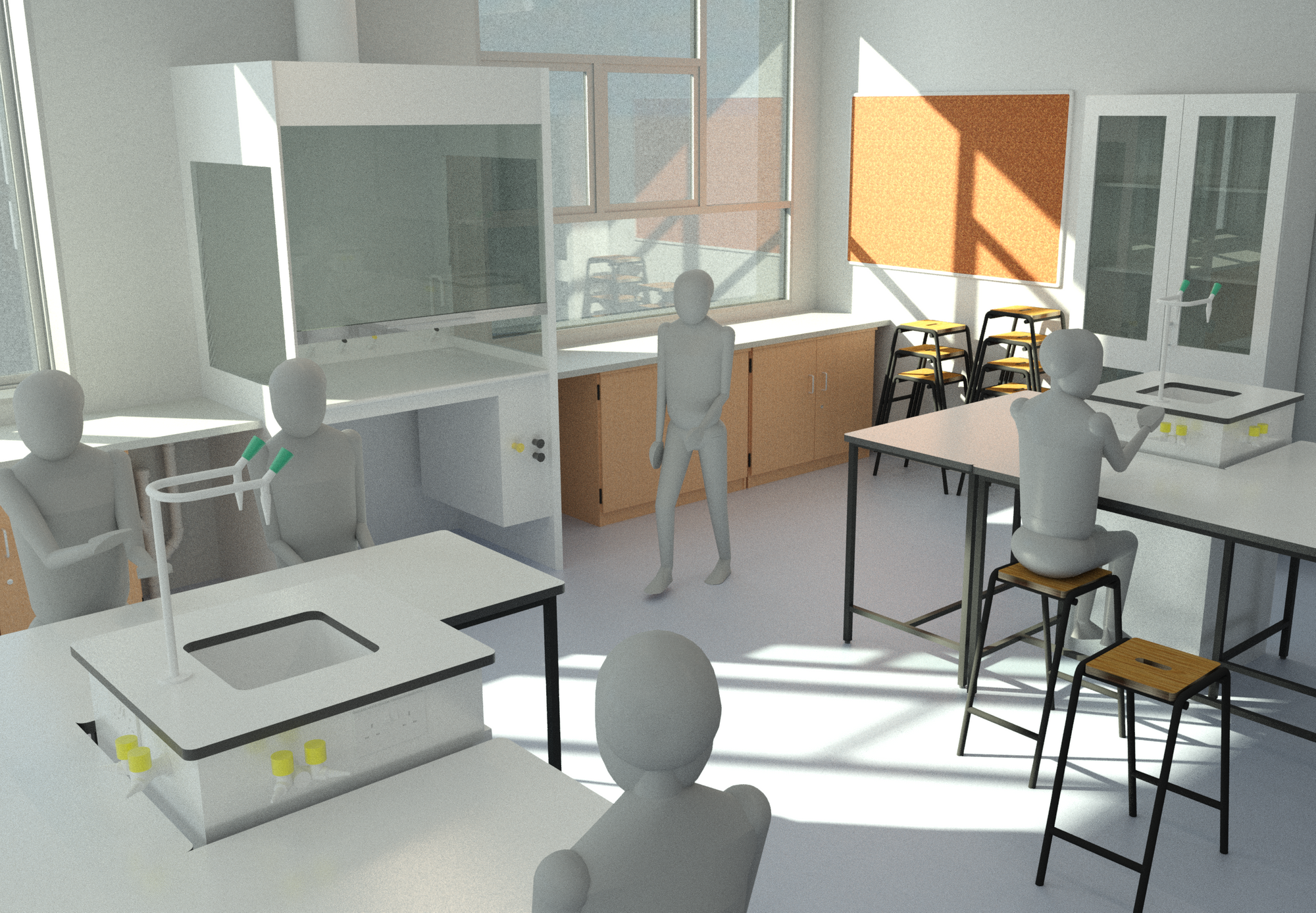 Student Work Stations
The collection contains a rectangular laboratory table and two service bollards all from manufacturer InterFocus. The table Revit family has 28 types addressing variations in finish, dimensions and frame design.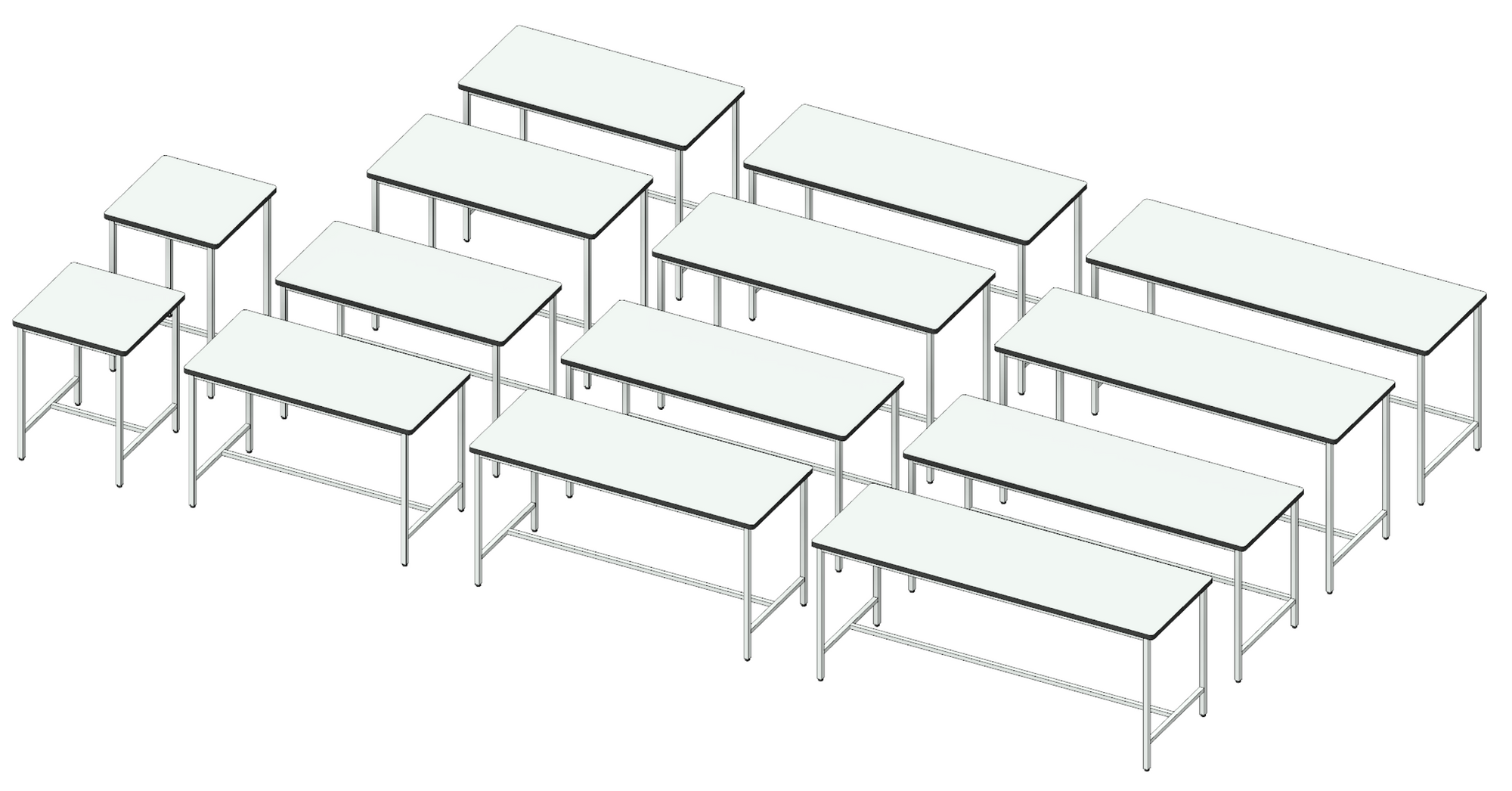 The service bollard models contain socket outlets, gas connections for Bunsen burners and a sink, all with appropriate Revit connectors. The access door has a clearance area. These features help ensure the science room design can meet maintenance and MEP coordination criteria.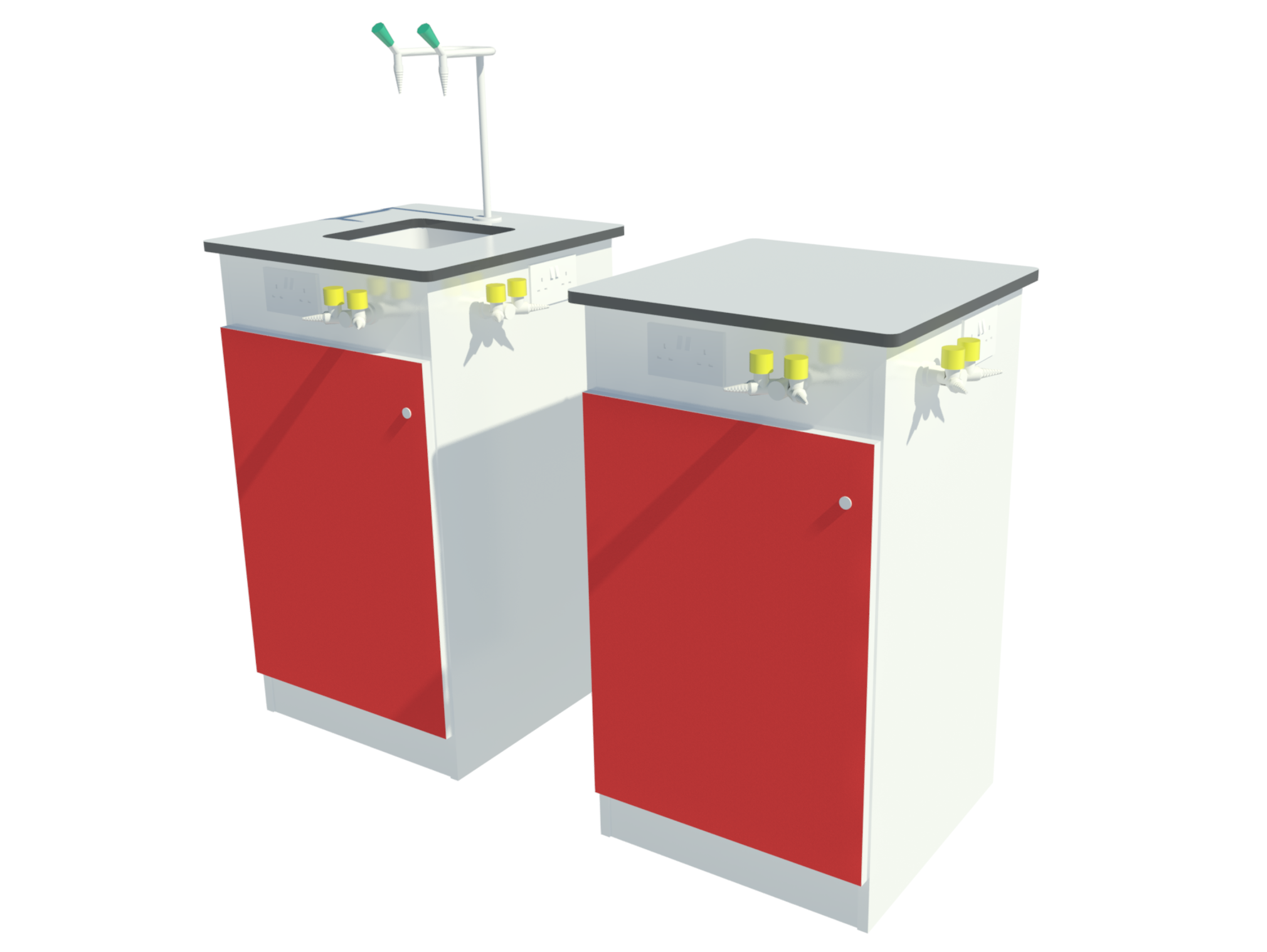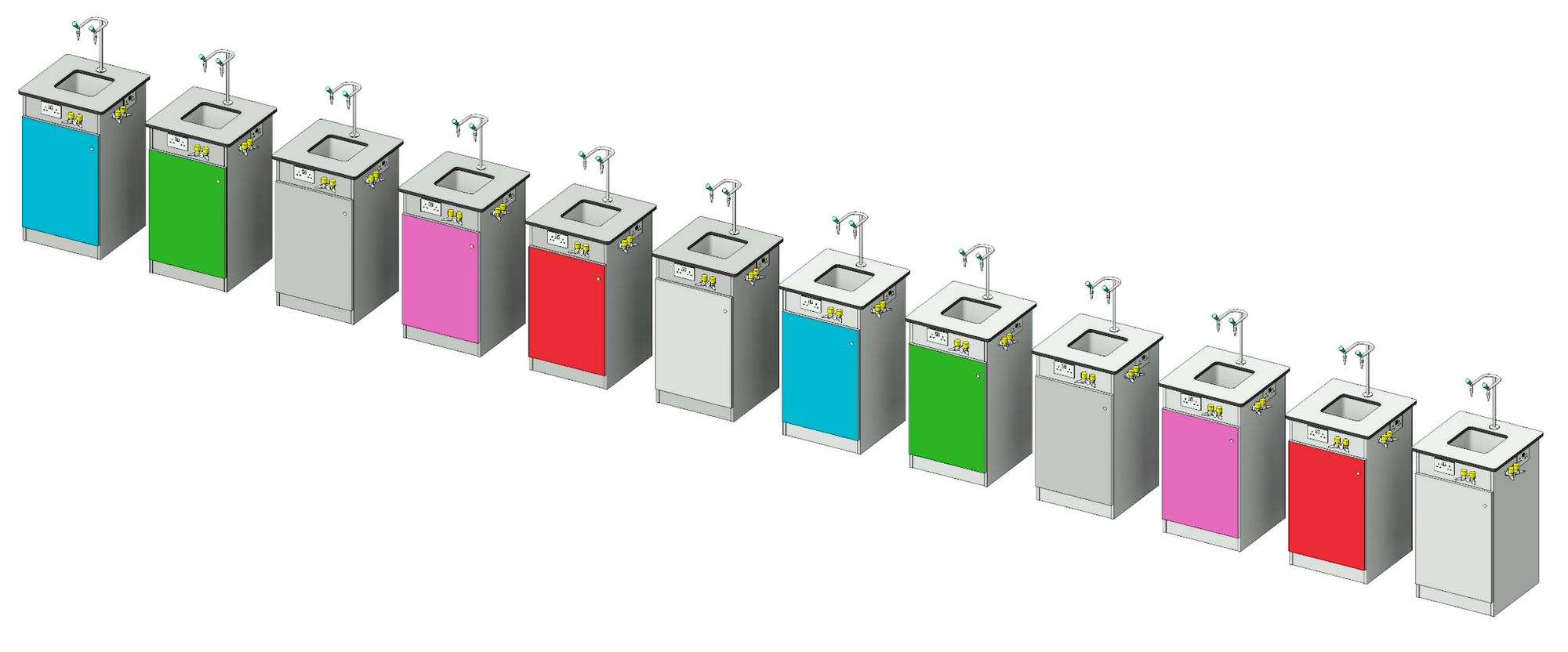 The service bollard Revit families also contain symbols for the socket outlet and gas taps to be used in electrical plan views at coarse LOD. The symbols can be offset in both horizontal and vertical directions, as seen in our luminaires, to ensure a clean layout design at any scale without overlapping symbols.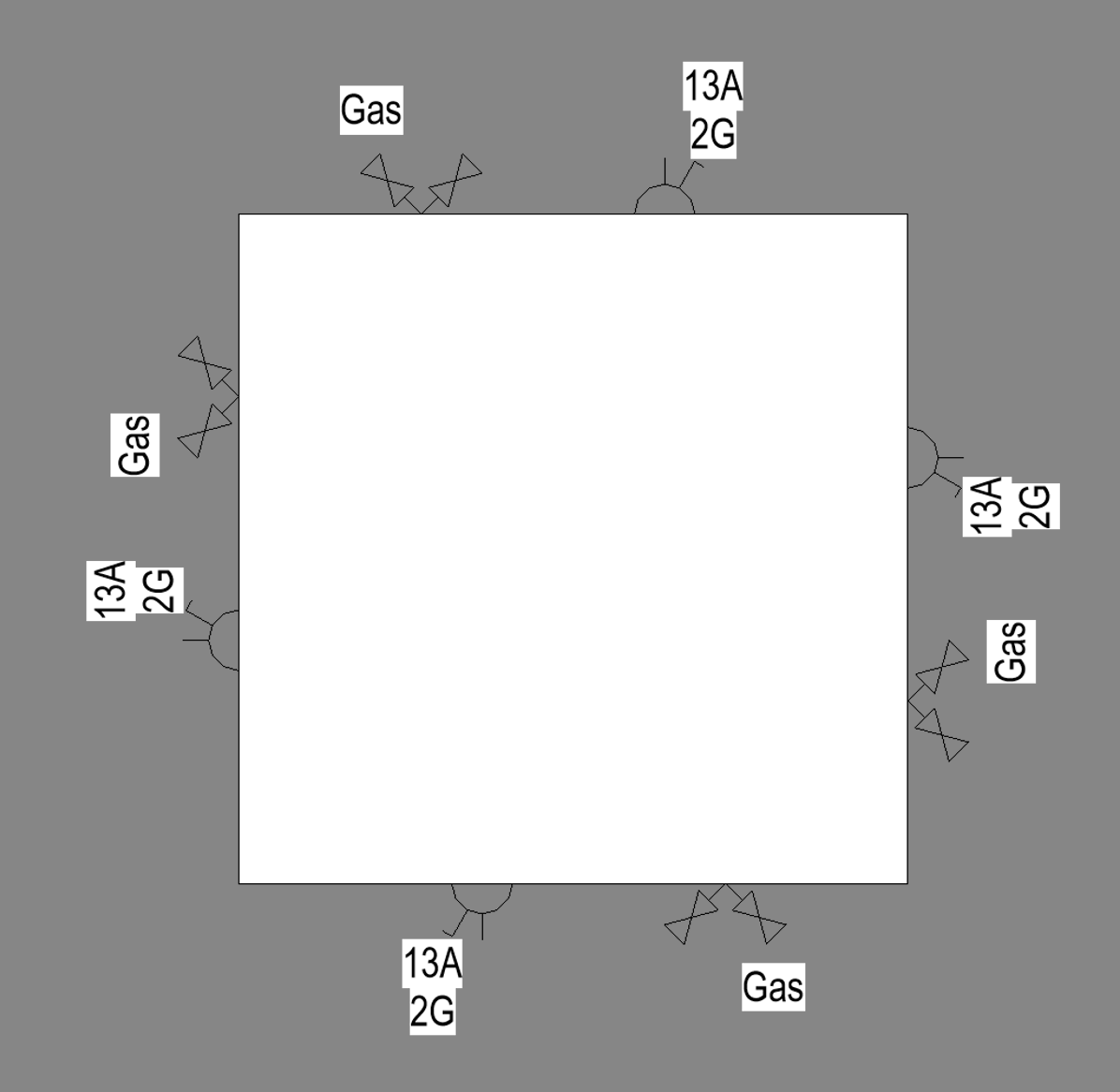 We have also created a fume cupboard model from manufacturer Safelab. These are an integral part of any science lab, even though some (all?) students may not be allowed to use them.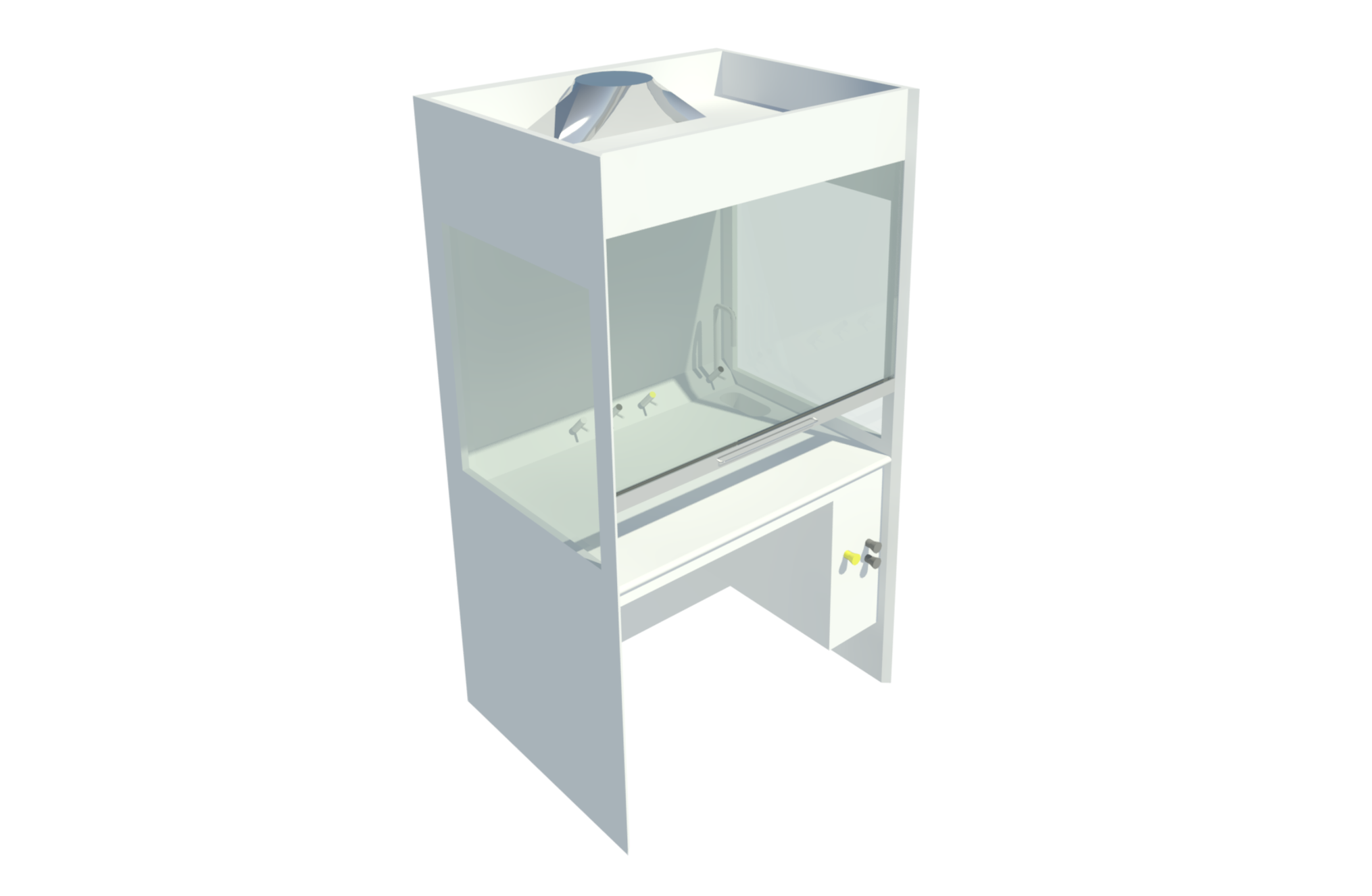 Storage Solutions
The collection contains storage cabinets from Reliance Medical and AJ Products. Both cabinets are floor mounted and the AJ Product model has various sizes and finishes available. There is also a coat hook Revit family for all those lab coats, from manufacturer Furniture@Work.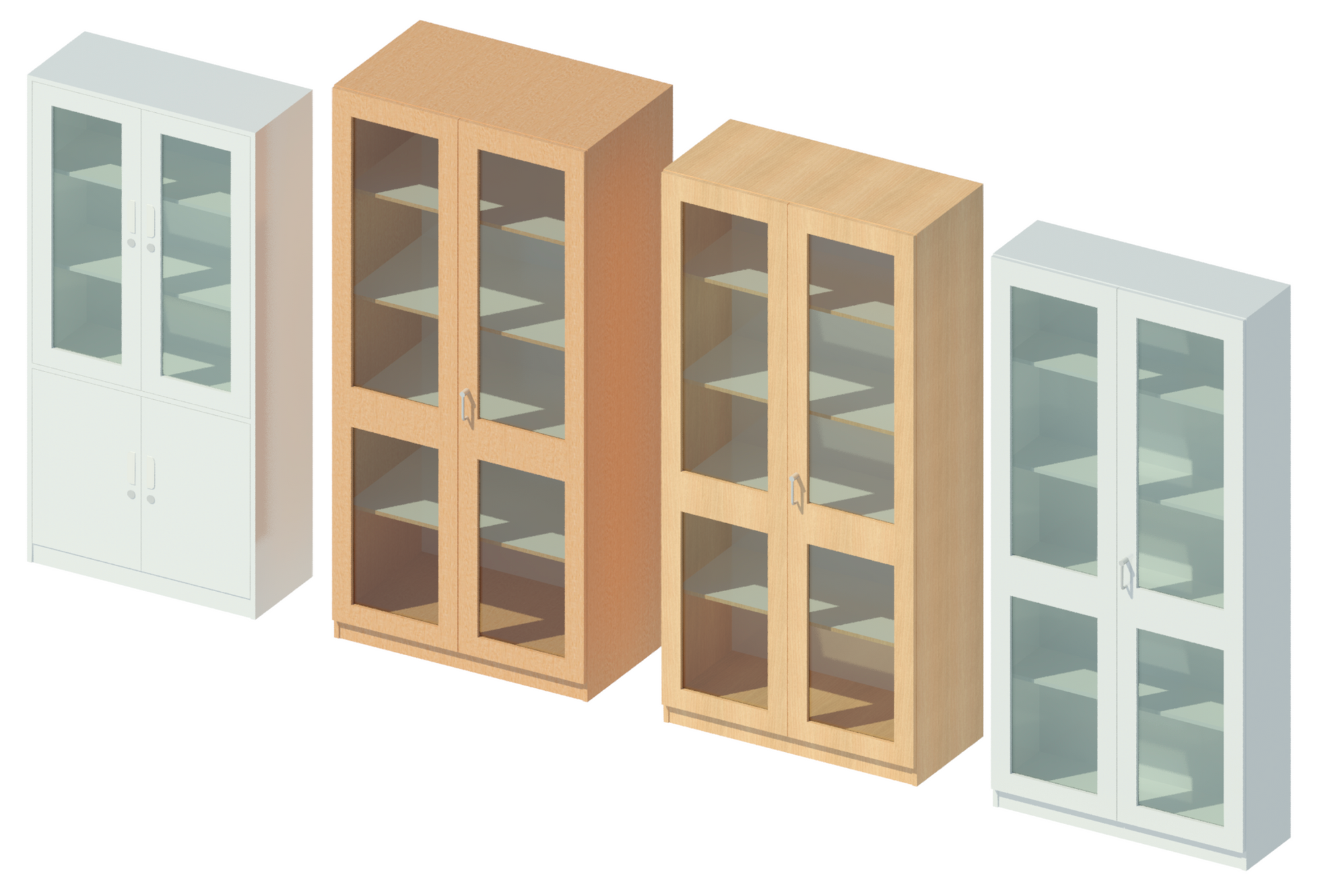 Seating
We've added an old school wooden seated stool from manufacturer Equip4Work. The stool family has 16 types accounting for various frame and seat materials along with four different stool heights. They work in conjunction with the various heights of the rectangular table and will be suited to most school lab room designs.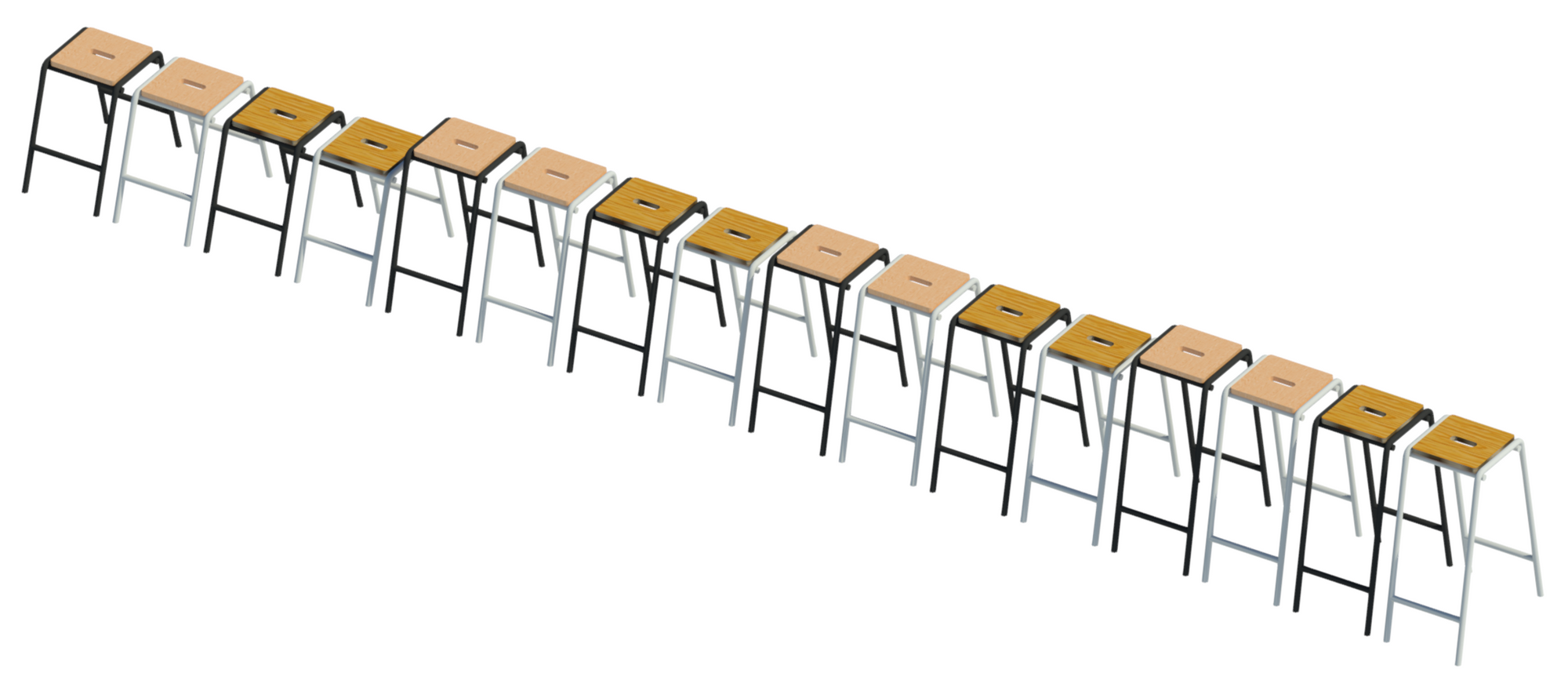 Projectors
These ongoing Revit collections for school classrooms have provided some insight into new technology and, to be honest, have made me feel a bit old at times. I never had a 'smartboard' in my school days, and when searching for storage cabinets to create, a lot of the ones I associated with had the term "vintage" in them. I am glad, however, to see that projectors are still in use, and so we've added a ceiling mounted projector from Hitachi. Our projector has 10 types accounting for 2 voltages and 5 different lens options.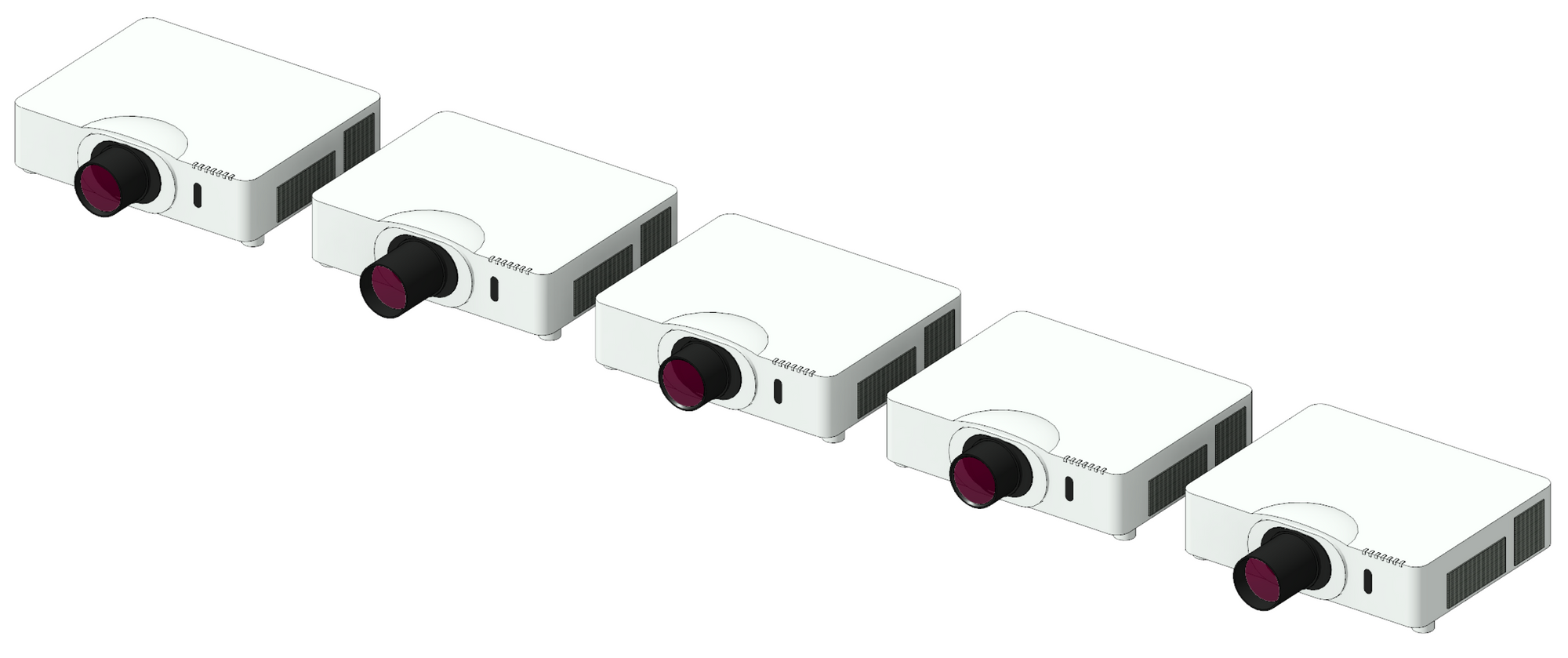 The projector is faced based so that it can be placed on top of furniture or on the underside of a ceiling. It has a mounting pole option and variable offset value to ensure any installation design can be achieved.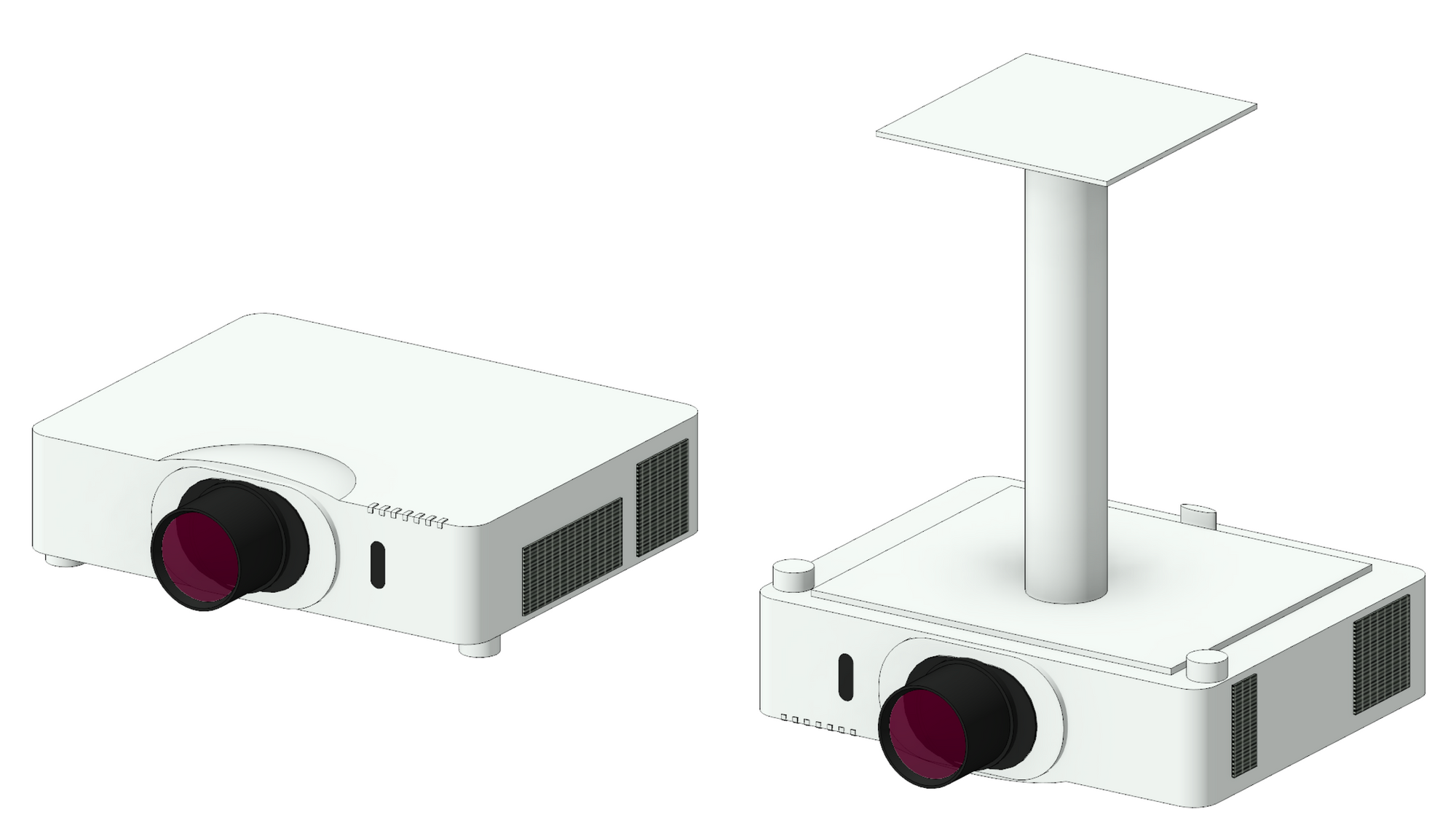 Whiteboards and Smartboards
The collection contains a wall mounted whiteboard from manufacturer Bi-Office and a smart board from Smart Technologies. All of these "board" Revit families contain a variety of sizes. The whiteboards also have a selection of finishes to choose from including ceramic, lacquered and non-magnetic.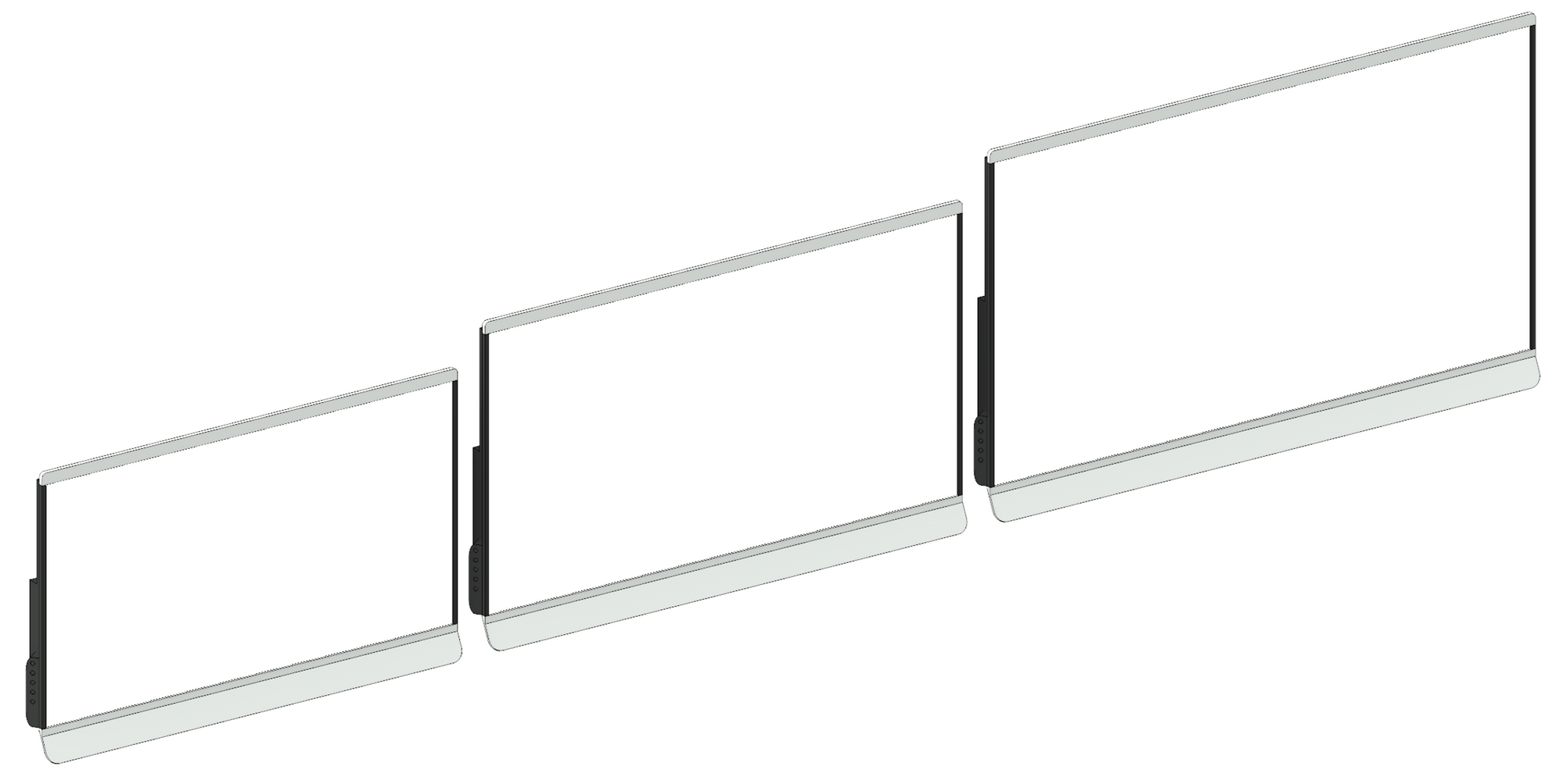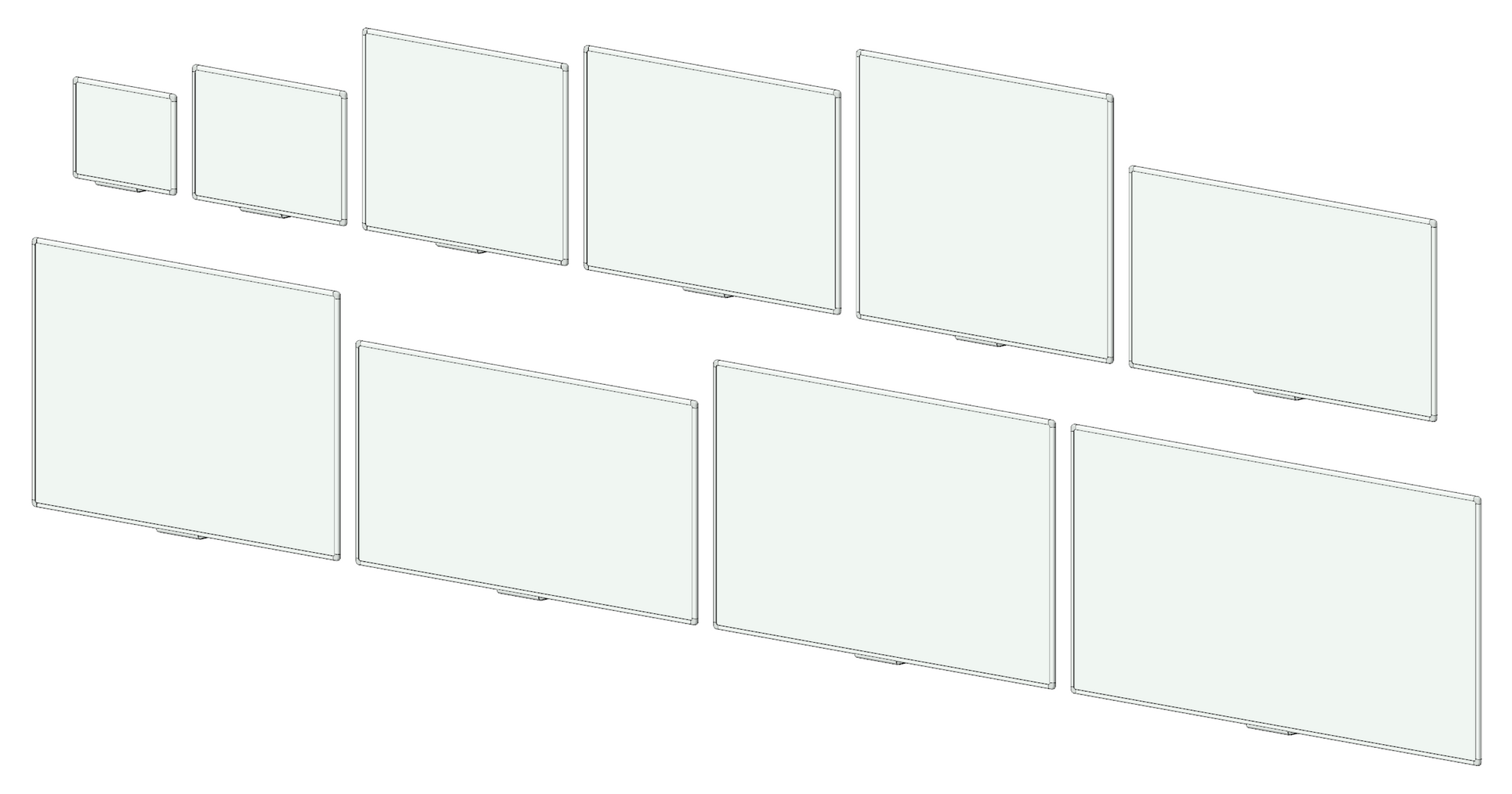 Ancillaries
Lastly, and like all of our school collections, this science laboratory classroom pack contains a wall mounted clock from Acctim. And just like in the real classroom environment, you'll find that the hands never appear to move.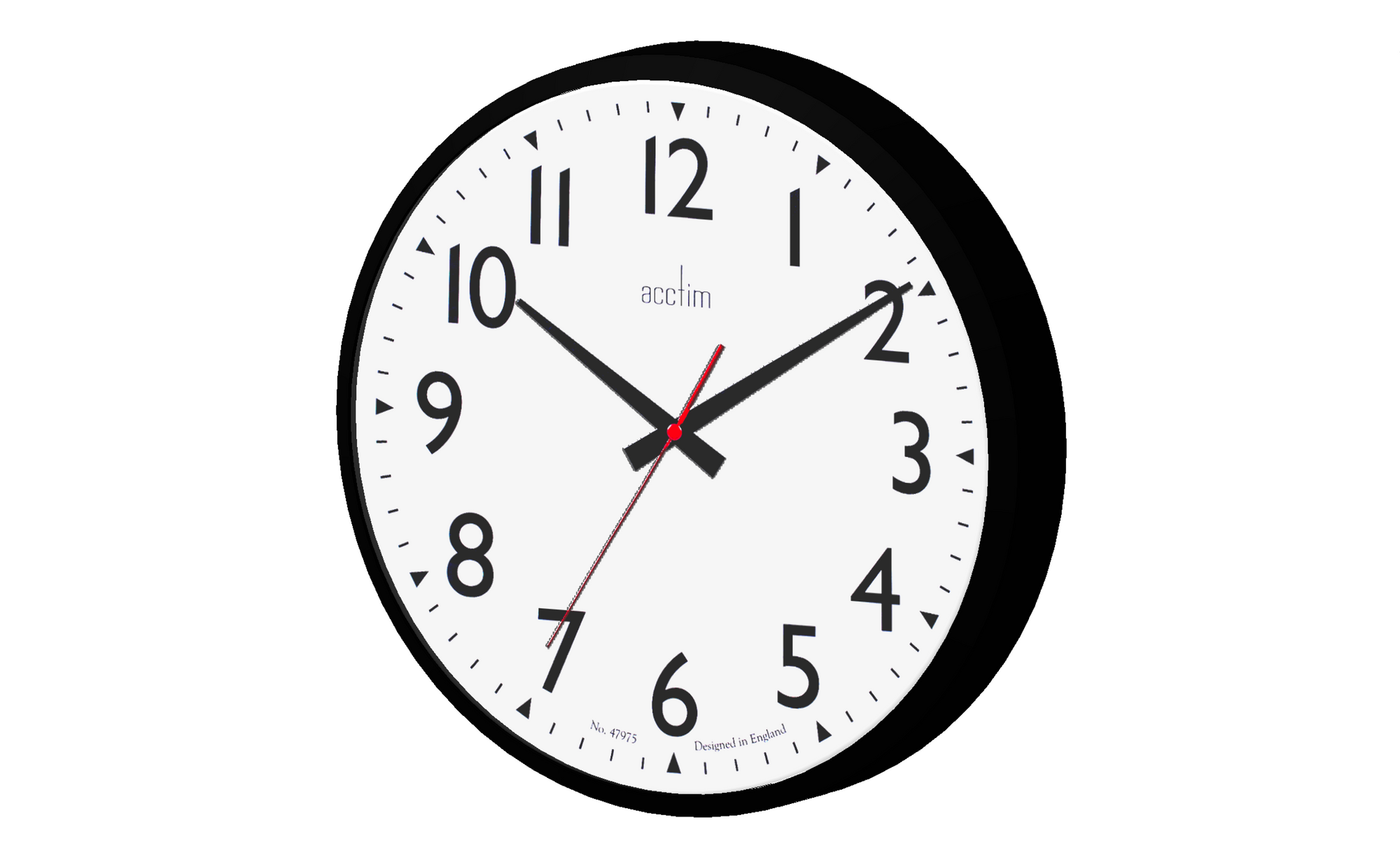 A Word on Geometry
The high stool has 2D details for plan view only and 3D geometry for elevations and 3D views. All the other Revit families have 2D for plan view and elevations, with 3D geometry for all other views. The families also come with three levels of detail, unless their geometry is very basic. In some cases, we have added a Detail Line subcategory to offer the end user a greater level of visibility control. Below we show the projector as an example.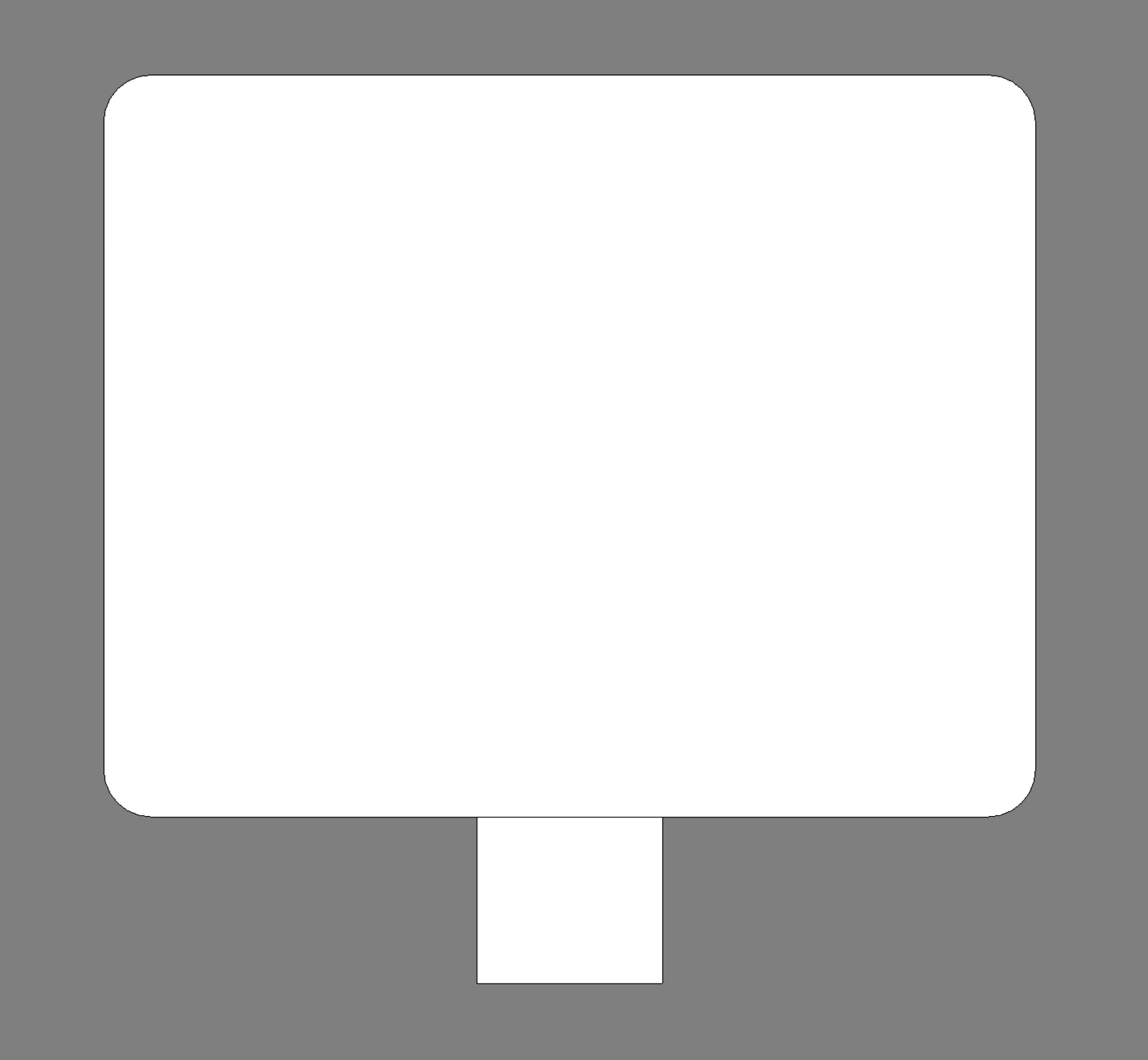 Get the Collection
Click here to view and download the full collection.
Collection Content List
Wall mounted whiteboard from Bi-Office.
Wall mounted smartboard from Smart Technologies.
Wall mounted analogue clock from Acctim.
Floor mounted storage cabinet from Reliance Medical.
Floor mounted storage cabinet from AJ Products.
Rectangular table from InterFocus.
High stool from Equip4Work.
Face based projector from Hitachi.
Wall mounted coat hook from Furniture@Work.
Service bollards from Interfocus.
Fume cupboard from Safelab.
About Greta Jonsson, ARB, RIBA
Greta Jonsson is a UK-based architect with over 15 years of experience in the education, community and housing sectors. She has previously worked for Cazenove Architects and ECE Architecture amongst others. Currently, Greta is leading the social enterprise 100% PLUS (www.100percentplus.co.uk), which is focused on developing a concept for quality, inclusive housing with the involvement of the community living around it. In addition to co-founding 100% PLUS, Greta is an ongoing mentor at Built by Us Fluid Diversity Mentoring programme, has volunteered for Open City in various educational projects, and is a member of Women in BIM.
Want More Content?
All of our free Revit collections are part of Kinship Content+,  a service providing companies with on-demand Revit content creation as well as access to a pool of existing Revit families from other customer requests and our own internal development.
If you have any comments, or suggestions for components you wish were in this collection, please let us know at hello@kinship.io.